When Broadway and Opera Mix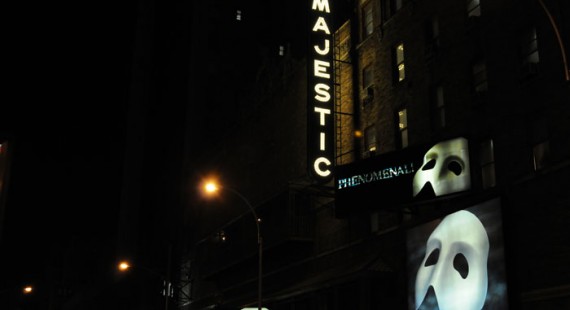 Opera is often talked about as being a seasoned mix of many art genres, most importantly theater, dance and orchestra, which come together into one unforgettable night of artistry.
"Opera is complex for those who perform it, but also for those who listen to it," said vocalist Andrea Bocelli. "It takes more time, more patience and more spirit of sacrifice. All this is well worth it because opera offers such deep sensations that they will remain in a heart for a lifetime."
The depth and complexity of opera – along with a popularity that spans centuries – makes it a natural inspiration for Broadway, which has often drawn from classic operas, giving 19th century works a contemporary update.
Rent
Inspired by the Giacomo Puccini opera "La Boheme," the contemporary "Rent" trades the consumption (known today tuberculosis) that took the life of Mimi in "Boheme" for HIV/AIDS, a more modern medical crisis, although the characters' background as young, impoverished artists is essentially the same.
While "La Boheme" occurs in Paris in the 1860s, "Rent" is set in New York City's East Village during the late 1980s and early 1990s, and was born when Jonathan Larson realized Puccini's opera mirrored his own life living in the shadow if the AIDS crisis.
Still, Larson gave the story an edgy update, introducing drug addicts and drag queens that were East Village standards, and set it all to rock music. Together, the modern elements would draw fresh, new audiences to Broadway, making the genre more inviting – and potentially generating an interest in opera, as well.
"I think it's a really important conversation to have, where the new audience for theater is going to come from," said the show's director, Michael Greif, in an interview with the Los Angeles Times. "How do we get them to find something of value in their lives in the theater?"
"Rent" – which opened on Broadway after Larson's untimely death at age 35 of a heart condition the night before the show's off-Broadway debut in 1996 – was the kind of show that would not only earn the respect of seasoned theatergoers but also introduce theater to those who had never stepped foot inside a Broadway theater.
"That's why I got so excited about 'Rent,'" Greif added. "Here was an opportunity to express things you generally don't find expressed in musical theater. As I read on and listened, the doors of possibility opened."
The show earned a Pulitzer Prize and moved to Broadway's Nederlander Theatre on April 29, 1996.
It won a Tony for Best Musical and ran for 12 years, closing on Sept. 7, 2008, after 5,123 performances. It was at the time the ninth-longest running musical of all time, but is now in 10th place, after being surpassed by the "Mamma Mia!"
The Phantom of the Opera
While "Rent" was inspired by a classic grand opera, Andrew Lloyd Webber's "Phantom of the Opera" takes its cues from operatic form, and celebrates the dramatic storylines and dynamic music and costumes often found as part of a grand opera.
The show, which took home seven Tony Awards in 1988 including Best Musical, marked its 10,000th performance in 2012, and is the longest-running show on Broadway.
Set in a Paris opera hall, the show is based on the French novel "Le Fantôme de l'Opéra" by Gaston Leroux, and features as its main character opera soprano Christine, the obsession of a disfigured musical genius and magician who lives beneath the opera house. The Phantom chooses her to mentor while unleashing his powers of evil on other members of the opera house.
The show features more than 200 costumes, an elaborate set highlighted by a chandelier that crashes to the stage and lavish musical numbers. Essentially, "Phantom" is a musical presented in the style of grand opera, with opera as its running theme.
Miss Saigon
Like "Rent," "Miss Saigon" is based on the classic opera "Madame Butterfly," also by Puccini.
The opera tells the story of a U.S. Naval officer set to marry a Japanese geisha girl whose name means butterfly. While he only plans to marry her for convenience, Butterfly loves her American husband, and three years after their wedding, is waiting patiently for him to return from America to meet the son they share. When he arrives, he brings his new American wife, who has agreed to raise their son as her own, and an anguished Butterfly agrees to give up her son but commits suicide in her grief.
"Miss Saigon" has a similar storyline of an Asian woman abandoned by her American husband, but updates the setting to Saigon during the Vietnam War. The lieutenant is an American GI named Chris, who meets and falls for Vietnamese bargirl Kim just before he is evacuated from Vietnam.
The 12th longest-running show on Broadway, "Miss Saigon" opened at the Broadway Theatre in 1991 and closed in 2001 after more than 5,000 performances.
Aida
In 1991, Elton John and Tim Rice teamed up to produce "Aida," a musical based on the Giuseppe Verdi opera of the same name.
The exotic story begins when two strangers meet at a contemporary museum, then travels back in time to ancient Egypt, where we meet star-crossed lovers Radames, the future leader of Egypt who is betrothed to Princess Amneris, and captured Nubian princess Aida, whose father is the king of Nubia.
A bit Romeo and Juliet, as the two come from battling regions and end up betraying their countries for each other, in the end the two are buried alive together in an Egyptian tomb, although Radames vows to travel lifetimes to find his Aida again.
"Aida" premiered on Broadway on March 23, 2000, and ran for 1,852 performances, closing on Sept. 5, 2004.
Verdi's version was written in 1870, and will be performed in April by the Metropolitan Opera.
Author: Brenda Neugent