Auditioning for Broadway: Everything You Need to Know But Were Afraid to Ask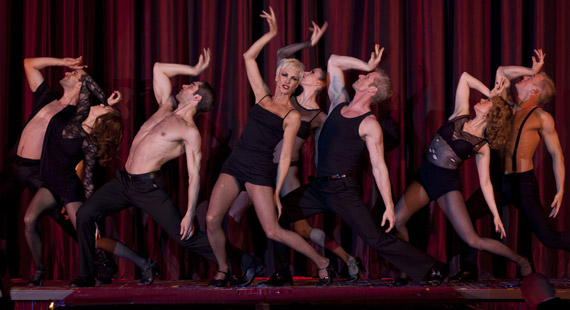 lev radin | Shutterstock
The long-running Broadway musical "A Chorus Line" – featuring music by Marvin Hamlisch – is at its heart an honest portrayal of the Great White Way, beginning with the nerve-wracking process that is the audition.
For every Broadway star that makes it there are hundreds of hopefuls, each silently singing "I Hope I Get It" while showing a casting director what they've got, each longing to land that dream job after pounding the pavement and scouring the pages of Variety for just the right casting call.
"When actors first come up, you're auditioning for everything – you're trying to sniff it out like a pig with a truffle and you would do anything," said Bryan Cranston. Although best known for his roles in "Malcolm in the Middle" and "Breaking Bad," Cranston's roots are on stage, and in 2014, he appeared in the Broadway drama "All The Way," addressing President Lyndon B. Johnson's role in civil rights progress. Cranston won a Tony for best actor in 2014 for his portrayal of LBJ.
The casting call
Auditioning is the worst," said Rashida Jones, best known for her role as Ann Perkins on "Parks and Recreation."
And while the daughter of Quincy Jones and Peggy Lipton should have everything involved in the entertainment industry in her blood, auditioning is still an-under-the-microscope experience full of judgment and scrutiny that for some destroys the love of the art.
"Auditioning is brutal and dehumanizing," said Mara Wilson, who starred in the movie version of "Matilda" and the Robin Williams movie "Mrs. Doubtfire" before quitting the business and eventually enrolling at NYU, where she wrote and starred in the one-woman production "Weren't You That Girl?"
"There are days where you can do it and days where it's just not happening," added Kelly Reilly, a British stage veteran with a list of TV and movie credits including the series "True Detective."
When it works, however, it's pure magic, which is why so many actors "loathe, love, and lust for" auditions, all at the same time, said Brad Bass, whose credits include the Broadway smash "Wicked."
"I've met many actors who hate to audition. Usually, these actors don't often get much work. You have to love showing off what you have to offer and you have to love the challenge of always laying your artistic soul on the line for the upper folk to pick apart and judge," he said.
Celebrity stylist Brad Goreski agrees.
"I went to school to be an actor in Canada and realized I hated auditions once I left, which is a huge problem if you want to get a part," he said.
Auditioning: Behind the scenes
There are two givens regarding auditions, experts say: Nerves and waiting.
"Acting is so much about waiting. Waiting for an audition, waiting for the right part to come along…" said Emily Kinney of "The Walking Dead" and "The Big C."
And while Tom Petty didn't have a Broadway casting call in mind when he wrote "The Waiting," it really is the hardest part of auditioning, said Taylor Smith, an 11-year-old student at Shippenburg Area Middle School in Pennsylvania. Smith auditioned for "Matilda the Musical" and wrote about her first-time experience for the website Kids Theatre News.
"The casting director would see equity girls first, but there were less than ten of them," she wrote. "I was in with the other 200+ non-equity girls. I was number 112."
As she waited, Smith practiced her music in the elevator, riding up and down again and again with her mom along for encouragement.
"I told myself, 'No matter what happens, just have a good time,' and that is exactly what I did," she wrote. "When they finally called my name, they put us in order and we waited some more. Then they took all our forms and our headshot. Finally, we lined up in a hallway outside the audition room. All of us were talking and having a good time and the casting directors were really nice. It was very similar to a local audition, without the six-hour wait."
If you're attending an open casting call, show up at least an hour before the audition times are scheduled to start so you can fill out any paperwork or sign up for an audition time. Expect at least a two-hour wait.
Finding the audition
Whether you're a vocalist, dancer, dramatic actor or comedian, there is plenty of union and non-union work to be had on and off-Broadway.
Scouring the classifieds is one way to land roles, but if you're taking classes or workshops, your acting coach or teacher will be able to steer you in the direction of parts that are right for you.
Landing an agent can help you nab plum roles, because your auditions will be scheduled and casting directors will be aware of you and your resume ahead of time, and have already considered you potentially right for the part.
The importance of the audition
Even with a heady resume in hand, the audition is the most important aspect of landing a job on Broadway, so much so that Bass looks at the audition as the real job.
"In my experience of working as a professional actor for 14 years, I find that the best way to look at things is to know that auditioning is actually my REAL job and when I secure a show, THAT is my reward," he said.
Auditioning became easier, he said, when he chose to focus on himself, not the other actors up for the same role.
"Very early in my career, I made a decision. As I looked around the room at the hundreds of other bitchy boys that were more flexible than me, taller than me, thinner than me, and had more hair than me I felt like I couldn't compete with them. I felt like if I tried competing with these people, that I would be made to feel less than at every audition I would eventually attend. I made a decision that day that I would never ever ever compete with anyone in the business again. I would only ever compete with myself.
"If I had goals for each audition, I needed to achieve those goals at the completion of my audition day. If I didn't, I let myself down and if I did, I succeeded. This mentality was a saving grace for me. I booked more work because I had to prove to myself that I was able to. That was my secret," he added.
The dos and don'ts of auditioning
If you want to nail your audition, there are a few things to think about beforehand if you hope to land the role.
Be prepared. Know the material you'll be reading and have a clear understanding of the show. If you're auditioning for a musical, the industry standard is coming in with 32 bars of prepared music. You also need an updated headshot and your resume, along with sheet music for the accompanist. Have a few copies of your headshot and resume so everyone at the casting call will have one to reference.
Accept being nervous. Almost everyone at an audition is likely to have a little bit of stage fright, and those nerves can ignite your internal fire and make your audition better, as long as you're prepared. If you're not, nerves will be your downfall.
Be ready when they call. Even if you've come close to falling asleep while waiting, be ready when they call your name. Remember that everyone else has been hanging around as long as you, and they don't want a minute of their time wasted watching you fumble for sheet music or your headshot. If you have an appointment, be on time. Late is never acceptable, and neither are excuses.
Know who will be at your audition. As with any job interview – and that is exactly what an audition is – the more you know about the key players, the better able you'll be to meet their needs. Most likely, your audition will include the show's director, casting director, choreographer and musical director, as well as the producer.
Expect the unexpected. You may end up doing a cold read with another actor to get a sense of the compatibility between you, so be ready to improvise if necessary.
Don't waste a lot of time memorizing. Casting directors won't expect you to have the whole show memorized, so reading from a script is okay. What they're looking for is what you bring to the role, so focus on nailing the personality of your character rather than the lines.
"If I had even the tiniest scrap of advice to give to a young actor who was figuring out how to audition, I would say don't memorize the script," said character actor and playwright ("Marie and Bruce") Wallace Shawn. "The reality about auditions is that 98 percent of the results has to do with what you are, not with what you did in the audition."
Don't be a diva. There is always at least one in every group, but don't let it be you. You never know who is going to be at your audition, or where their career will take them. Being nice to everyone you encounter at your audition could land you a job later on if you make a good impression. There may be hundreds of hopefuls on Broadway but it's still a small, small world.
Be honest. Padding your resume is a good way to get blacklisted and lose your shot at your dream role. Let your personality and talent shine and the resume will grow.
Be gracious. You've handed your sheet music to the pianist, stage right, you've introduced yourself and your song selection and you've wrapped up your performance, including a monologue. Before leaving, be sure to thank everyone who participated in your audition – the casting director, the pianist, assistants and the receptionist. You absolutely want to leave a good impression, especially if you're audition went well.
Find the right niche. Rita Rudner might not have discovered her funny side if it hadn't been for the massive competition she faced when auditioning for Broadway shows, despite her resume, which included the shows "Follies" and "Mack and Mabel."
"I did six Broadway shows, and I noticed there weren't many female comedians. When I went to a dancing audition, there were 1,000 girls. And there were three jobs. So I said I'll just try comedy. And I loved it," she said.
Don't beat yourself up if you don't get the part. Not everyone is right for the role, but if you don't get a call-back for a second audition or don't land the part, that doesn't mean the right one or you won't come along.
"I went for endless auditions for tiny parts in obscure plays, and never got one job until I was in 'Four Weddings and a Funeral,'" said British actress Anna Chancellor.
The last word on auditions: Expert advice
Put your entire self into your audition, casting director Tisha Ioli told NY Castings.
"Using your whole body is a good thing, and by that I mean taking your hands out of your pocket," she said. "Don't keep them frozen by your side. Let your hands move if they want to because a relaxed body reads really well."
And again, don't memorize your lines, even if you know what part you'll be reading and think memorization will give you an edge.
"Even if a person is good at memorizing, what sometimes happens is we can feel the actor reaching for the memorized words, which can take away from their personality," Ioli said. "People think that memorizing is going to elevate them to the top of the heap and it doesn't always work that way. Memorizing the copy is usually a bad thing because it takes a lot of the personality out of it."
Too, don't dwell on the audition too much after it's over, because as long as you give it you all, there is nothing more you can do.
"It really isn't all about talent necessarily," she said. "It isn't the best person wins. It has to do with type. If they are looking for a nurse – does she look like a nurse? I think that actors feel like it is their fault if they don't get a callback, but there are so many other factors that come into the process of choosing someone. You have to go in, do your best, and forget about it."
And if you don't get a callback right away, don't panic. Sometimes the casting is as difficult as the audition process.
"The trick to finding just the right combination of a voice of steel, an honest actress, and a fantastic dancer," said casting director Patrick Goodwin of the search for the perfect stars for the revival of "Annie."
The process, Goodwin said, took two years, because it was so important to make sure they had just the right kids for the iconic roles.
Auditions: The last word
Don't go into your audition with set expectations, because you might end up being surprised.
"I didn't know I could sing until I auditioned for 'Les Miserables.' My friend was auditioning, and I wanted to audition too," said Lea Michele, who sang "Angel of Music" from "The Phantom of the Opera" and landed the role.
She has since earned honors for appearing in numerous Broadway productions including "Spring Awakening" and a starring role on the music-themed "Glee."
Author: Brenda Neugent