Broadway Revival Side Show Celebrates Life of Conjoined Twins Daisy and Violet Hilton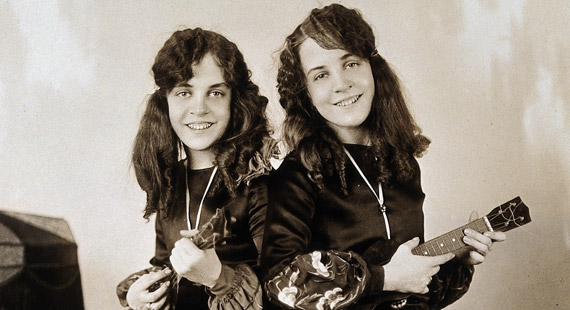 While they may have died in relative obscurity, conjoined twins Violet and Daisy Hilton are posthumously living in the same spotlight that once shined at the start of their careers.
On television, Sarah Paulson (whose Broadway background includes Tennessee Williams' "The Glass Menagerie") is currently playing conjoined twins Bette and Dot Tattler on the FX hit "American Horror Story: Freak Show." The characters are both loosely based on the Hilton Sisters, who were fused at the pelvis and toured the world as side show attractions.
In addition to the FX drama, Broadway is celebrating the revival of the 1997 musical "Side Show," a show by Henry Krieger and Bill Russell that tells of the Hilton sisters' rise to fame during the 1930s. The show was nominated for four Tony Awards in 1998, including a Best Actress nomination for Emily Skinner as Daisy and Alice Ripley as Violet, who would have shared the award had they won. Despite some good reviews, the show closed after only 91 performances.
With curtain on the revival set to go up next week, it's clear our fascination with the pretty conjoined twins and their lovely singing voices isn't coming to an end any time soon.
Born in England in 1908 to unwed mother Kate Skinner, the girls – the first conjoined twins born in Britain to survive more than a few weeks – were seen for their commercial potential by Skinner's boss, Mary Hilton, who bought the girls and instructed them to call her "Auntie." Daisy and Violet were subsequently relegated to a life of exploitation and cruelty. Initially they were on display in the back room of a pub, available for viewing for the right price, and later were taken on tour throughout the world, still under the strict control of Hilton and her husband. The Hilton sisters never saw a penny of the money they made as part of their appearances, and after Mary Hilton died, they were willed to Hilton's daughter, who continued the emotional and physical abuse that kept them subservient.
The girls were trained in the arts as a way to expand their act, and were forced to practice tap dancing routines as well as the saxophone and violin for hours each day while their "guardian" looked on.
During that time, they met magician Harry Houdini, who taught them how to separate themselves mentally so that each could enjoy a bit of privacy, which eventually led to intimate interludes. ("Why, I just turn over and read a book and eat an apple," Violet once said in reference to Daisy's romantic life.) Houdini also advised them to get a lawyer, which resulting in a highly publicized trial that netted the girls their freedom – and $100,000 – in 1931.
The first thing they did to celebrate their independence was erase the childlike persona they'd been forced to portray while taking steps to find their own personalities and styles.
"We had dresses sent up, and selected no two alike, and all the silly hats we wanted. We could dress and act our age, and no longer be made up as children, with bows in our hair. I, Violet, had always wanted to drink a cocktail. I, Daisy, wanted to smoke a cigarette. We did."
On their own, they developed a vaudeville act dubbed "The Hilton Sisters' Revue" and landed roles in Tod Browning's 1932 movie "Freaks," a cinematic work that at its core celebrated and honored the diversity of the people who made their living in circus sideshows.
During their heyday, they had worked with Bob Hope, Charlie Chaplin, Sophie Tucker and George Burns and Gracie Allen, but on their own, they struggled to manage their finances and their personal lives. They suffered troubled romances, a birth that ended in adoption and starring roles in the unfortunate 1951 exploitation film "Chained for Life."
The story of two conjoined sisters – one on trial for shooting the other's husband, who had only married her as a publicity stunt – shares the dubious place as one of the worst films in history, alongside the Ed Wood movies "Plan 9 from Outer Space" and "Glen or Glenda."
In 1962, while on tour at drive-in theaters to attract attention to the rerelease of "Freaks," the sisters were abandoned by their agent in Charlotte, N.C., just a few hours from where the most famous of conjoined twins, Chang and Eng Bunker, are buried near Mount Airy.
Desperate to make a living, the sisters landed jobs as check-out clerks at a Charlotte grocery, and for seven years, kept a low profile in the city. In 1968, Violet became sick with influenza, and just as she was recovering, Daisy also grew ill. The two were found dead, huddled on a heating grate, on January 3, 1969. They were 60 years old.
Earlier this year, more than 40 years after their deaths, the twins became the subject of Leslie Zemeckis' in-depth documentary "Bound by Flesh," which was released in June.
The Broadway revival of "Side Show" – this time starring Emily Padgett and Erin Davie – will open Monday at the St. James Theatre, 246 West 44th St.