Broadway's 20 Must Follow Twitter Profiles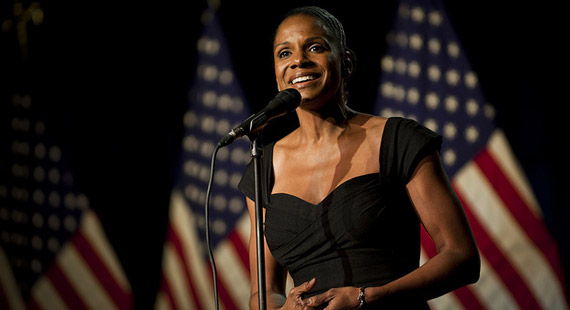 Broadway just seemed destined to light up social media. As a performance art, it just lends itself to the medium so well. Twitter has no shortage of Broadway-related profiles. The only problem is, how do you sift through the ever growing number of personalities so your feed doesn't overwhelm you? We have you covered. We've boiled down the Broadway Twitter universe into an essential 25 to follow.
@AudraEqualityMC
Audra McDonald is a Broadway superstar and her Twitter profile offers some great insight into her life as both an everyday person and a Broadway actress. You can look forward to daily tweets that center around Broadway shows, charity events, everyday humor, and everything Audra. Plus, she is quite interactive so you might be able to get a response or a retweet; a neat treat for anyone who loves the actress as much as I do.
Wow Harlem gave the @LadyDayonBway cast the key to their city! What an honor!!!! pic.twitter.com/VkEXTVsIVD

— Audra McDonald (@AudraEqualityMc) August 28, 2014
@Broadwaycom
This is Broadway.com's official Twitter page, and it is packed with all the Broadway news your heart desires. Stay up to date about the hottest shows, and get a direct link to exciting features daily.
Six things we learned about @TheRiverPlay's @RealHughJackman today: http://t.co/Hlw2baNOz7

— broadway.com (@broadwaycom) September 3, 2014
@BroadwayGirlNYC
Sometimes it is refreshing to get the perspective of a Broadway fan, and that is what you get from @BroadwayGirlNYC. Jump into her head for the latest reviews, gossip, and news from someone who is essentially just like you.
Confirmed: "homosexual themes" led PA school to cancel #Spamalot. This attitude is #dangerous to #LGBT youth! Plz RT. http://t.co/lT2OM8Q38Y

— Broadway Girl NYC (@BroadwayGirlNYC) August 21, 2014
@BroadwaySpotted
This profile is really fun because it's like a Broadway celebrity GPS. When a Broadway star is spotted in public, this profile will be the first to let you know. Perhaps if you're nearby you too can spot your favorite stars in person. Just keep your inner stalker in check.
Standing in Times Square as Broadway shows are letting out is truly magical.

— Broadway Spotted (@BroadwaySpotted) August 30, 2014
@BroadwayTours
I am a little partial to our Twitter feed. As well as posting new commentary each week on the Broadway scene, we also scour the Internet seeking out the most interesting Broadway articles, videos and everything in between to keep our followers talking and plugged in daily. Give us a look.
How to Invest in Broadway | http://t.co/izYNBV36w3

— BroadwayTour.net (@BroadwayTours) August 15, 2014
@BroadwayWorld
BroadwayWorld.com's official Twitter page gives you up to date access to the largest and most comprehensive network of Broadway news, photos, videos, and features. You're not a real Broadway fan if you aren't following this profile.
Norm Lewis Extends Run in THE PHANTOM OF THE OPERA; Sierra B… http://t.co/3PBaJRbvai pic.twitter.com/akXFRPcmu0

— broadwayworld (@broadwayworld) September 3, 2014
@DavidCote
Self-proclaimed early-career playwright and opera librettist David Cote, offers tweets that are as valuable as his theatre reviews in Time Out and his critiques on NY1's On Stage.
Unhinged, logorrheic, grudge-holding, obscurantist, bridge-burning, comments-trolling theater bloggers are so 2008. I miss them. #nostalgia

— David Cote (@DavidCote) August 15, 2014
@KChenoweth
Kristin Chenoweth is another Broadway starlet that is worth a follow. Stay up to date about what's happening with the star including upcoming shows, outings and appearances, and personal tidbits that serve as deeper insights into her personality. Trust me; she is just as charming on Twitter as she is in real life.
— Kristin Chenoweth (@KChenoweth) September 3, 2014
@NewYorkTheater
Jonathan Mandell is a journalist and theatre critic who consistently engages theatre lovers in conversation. He is definitely a good person to follow if you like to swap ideas with others.
Of the 25 shows announced so far for Bway 2014-15, there will now be 2 by women playwrights, Airline Highway and Fun Home

— Jonathan Mandell (@NewYorkTheater) September 3, 2014
@NYTimesTheater
Senior theatre editor for the New York times Erik Pipenburg provides quality theatre tweets to all @nytimesarts followers. While the theatre related news is great, I love this Twitter feed because of the show reviews. Honest and transparent, you'll know for certain whether or not you should see a specific show after reading one of these reviews.
Readers share their memories of the first time they saw "Wicked," "Phantom" and other long-running #Broadway shows http://t.co/Q0FyK7frlm

— NYT Theater (@nytimestheater) August 27, 2014
@OfficialALW
Do you love Andrew Lloyd Webber? Then you'll absolutely love this profile managed by his private office which features pictures, news, and occasional tweets from Webber himself.
This wks #BreakALeg @StageAMusical tweet goes to: @Youngstagers for their prod. of @JosephMusical tonight! #TeamALW. pic.twitter.com/AfXDeQ8Paf

— Andrew Lloyd Webber (@OfficialALW) July 30, 2014
@PatrickHealyNYT
You no longer have to wait until the morning to find out how theatre reporter Patrick Healy feels about a show. Get his reactions as the happen, and I must admit his reactions are always entertaining.
Who bankrolls Broadway shows? My story today: Just $35,000 can make you an above-the-title producer w/ a Tony Award. http://t.co/k6IHPhanNP

— Patrick Healy (@patrickhealynyt) August 17, 2014
@Playbill
There is always something new you can learn by following Playbill's Twitter feed. Benefit from outstanding articles, photos, videos, and news from what has been called the preeminent destination for all things Broadway and theatre. No arguments here.
Catch Him If You Can: @aarontveitnet on @GracelandTV, Coming Back to Broadway and Tveiter Tots http://t.co/LqJuufJhTr pic.twitter.com/QlQ2Pj5lzC

— Playbill (@playbill) September 2, 2014
@RnH_Org
Cinderella, Oklahoma!, The King and I. Get all of the information you could ever want related to Rodgers and Hammerstein's iconic Broadway shows.
#TDIH 1953, the NYC Mayor declared "Rodgers & Hammerstein Week" when a total of 4 R&H hits were playing on #Broadway simultaneously!

— Rodgers&Hammerstein (@RnH_Org) August 31, 2014
@RTC_NYC
Follow this profile for lots of great information from the Roundabout Theatre pertaining to the theatre itself. There is also a lot of great inside information relating to contests, sightings, and staff spotlights.
.@CantTakeItBway returns to Broadway next Tuesday! Read our interview with James Earl Jones http://t.co/Ndw6K1keV0 pic.twitter.com/0YldgjjCLY

— Roundabout Theatre (@RTC_NYC) August 22, 2014
@TheaterMania
This is a great source of theater based information. You'll be able to stay up to date on news, ticket offers, and original videos. Plus they often do giveaways which is a great incentive.
WATCH: @idinamenzel, @ActuallyNPH & @msleamichele take on #Rent fave "Take Me or Leave Me" → http://t.co/4REarvcGJ0 pic.twitter.com/UGRA1yBLRd

— TheaterMania (@theatermania) September 3, 2014
@TheBwayLeague
The Broadway League is the national trade association for the Broadway industry. Their profile is filled with a host of events, deal, giveaways, and information galore from one of the most informed Broadway sources out there.
The curtain is up on #BroadwayWeek fall 2014! The 2-for-1 ticket program runs until 9/14. http://t.co/mVXv7I0H2d

— The Broadway League (@TheBwayLeague) September 1, 2014
@TheTonyAwards
So it's pretty obvious that this Twitter account revolves around any and everything having to do with the Tony Awards. But even when it's not Tony Award season this profile can offer a lot for those of you who like to be kept up to date with Tony Award winners and Tony Award winning shows. You'll get a behind the scenes look of the biggest night on Broadway as well as photos, videos, and other insider looks at the shows/actors you love when you follow @TheTonyAwards.
Love this #TBT shot of host @ActuallyNPH with "Sandy" on the #Emmys-winning 2013 #TonyAwards show! #woof pic.twitter.com/1e8hx9eQIH

— The Tony Awards (@TheTonyAwards) August 28, 2014
@TheWing
I LOVE @TheWing. As someone who enjoys really studying the things I am passionate about, this Twitter profile provides links to educational programs, podcasts, television programs, and so much more. If you want to delve a little bit deeper into the theatre world, this is an absolute must follow!
12 people have a competitive EGOT, but can you name the performers who have a @TheTonyAwards AND an @TheEmmys for the same role?

— AmericanTheatreWing (@TheWing) August 25, 2014
@TKTS
So if you like deals, this feed is great because you can find out daily what half-price tickets are available prior to standing in line for the tickets.
How many theatres can you fill in? pic.twitter.com/5ZNu5b6m35

— TKTS (@TKTS) September 2, 2014
I am telling you, if you want to know more about theatre you have to at least check out each of the profiles I have listed above. I guarantee you won't be disappointed when you hit that follow button and there is no doubt you'll learn a lot more about Broadway after just a short time of following these individuals.