Broadway's Most Romantic Shows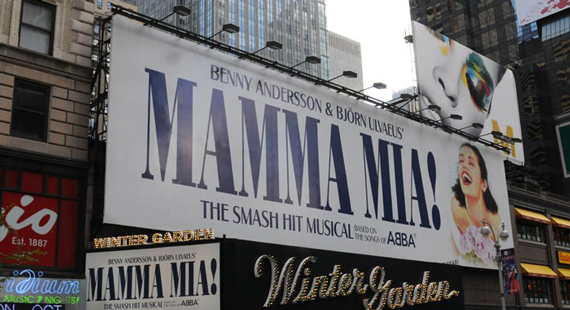 BroadwayTour.net
Broadway has been in love with love since the curtain rose on romantic shows like "Anna Christie," Eugene O'Neill's "Pretty Woman" of its time, the undying and risk-it-all love of "Showboat" and the quaint, but danger-tinged love between Curly and Laurey in "Oklahoma!"
With Valentine's Day just around the corner, it seems a good time to explore the romance on today's Broadway stages, so you and your love can find the right show to suit you, whether it's the enduring, magical love of "Wicked" or the unrequited passion of "The Phantom of the Opera."
Some ideal choices for date night include:
On the Town
This Broadway classic that first debuted in 1944 is perfect for those who love the charm of old-time stage and theater.
It features the song "New York, New York," and tells the story of three sailors with limited shore leave who arrive in the Big Apple, hoping to experience the city – and find true love in the process.
Featuring music by Leonard Bernstein, "One the Town" is fun and frivolous – Variety called it "still a helluva show" – and as it takes a playful romp through the city that never sleeps, stopping at a World War II-era Coney Island along the way, it is bound to make audiences look at the city a little bit differently when they emerge from the theater.
"On the Town: is currently playing at the Lyric Theatre.
Romantic twist: Nostalgia is always tinged with romance, and "On the Town" is the classic tale of love at first sight, especially so when one of the sailors falls in love with a poster of the comely Miss Turnstiles while riding on the subway.
Honeymoon in Vegas
It took New Yorker Jack seemingly forever to muster the courage to ask his girlfriend Betsy to marry him, but when they head to Vegas to tie the knot, Tommy, a smooth gambler with all the right lines, falls for Betsy too, forcing Jack to do whatever it takes to win back the love of his life.
With more than one Elvis and glittering sets, this show easily brings to life the over-the-top glitz that Vegas has to offer, and includes a collection of feel-good songs that are designed to stay with you, long after the curtain closes on this funny, fast-paced show.
Featuring Tony Danza as Tommy, "Honeymoon in Vegas" is currently playing at the Nederlander Theatre.
Romantic twist: The unforgettable music in this show is a perfect way to get your loved one dancing in the aisles. And dancing is sexy.
The Phantom of the Opera
One of the most tragic and beautiful stories of unrequited love, "The Phantom of the Opera" has been wowing audiences for more than 20 years, making it the longest-running show on Broadway.
The story of soprano Christine, loved by the deformed musical genius who lives in the catacombs beneath the Paris Opera House, "Phantom" offers lush music, dramatic sets and a story as old as time.
As if in a dreamscape, the Phantom hones Christine for when it is her time to become the diva of the Paris Opera House, but when her long-lost suitor returns, the Phantom grows angry and vengeful, although he still intrigues the lovely Christine.
Even on Broadway, ladies go for the bad boys.
"Phantom of the Opera," with music by Andrew Lloyd Webber, is currently playing at the Majestic Theatre. On Valentine's Day, there are shows at 2 and 8 p.m.
Romantic twist: Because the show is based on a horror novel, there are plenty of scary moments that are perfect for hand holding.
If/Then
This romantic musical starring Idina Menzel (best known for singing in "Let it Go" in the animated movie "Frozen" – and for having John Travolta absolutely butcher her name at an awards show) explores the road not taken by having one women portray two lives in New York City.
Elizabeth – who is at a crossroads and asks the advice of her friends on what direction she should take in her life – showcases two different lives, one of her as Liz, the other as Beth, her college nickname. While both Liz and Beth find love, the show reminds us that even the most chance encounter could be the one that brings us true love, and shows us our destiny.
"If/Then" is playing through March 22 at the Richard Rodgers Theatre.
Romantic twist: There are a few tear-jerker moments, so pack a tissue and be prepared to offer or receive comforting hugs.
A Month in the Country
Those with student-teacher fantasies will love this erotic off-Broadway telling of a tutor who arrives to teach Natalya Petronovna's young son, but instead finds himself the object of the mother's affections, despite her having a husband and a friend who has loved her secretly for years.
A Russian classic – the comedy of manners was first staged in 1882 – "A Month in the Country" ultimately suggests what happens when a bored housewife finds something to distract her – and the lengths to which she will go to achieve her goals.
Starring Peter Dinklage and Taylor Schilling, "A Month in the County" runs through Feb. 28 at the Classic Stage Company.
Romantic twist: Forbidden love – such as the romance between tutor and the married mother of his charge – is always a little bit steamy.
The King and I
When British governess Anna is hired to help the King of Siam adjust to a modern world, sparks – and a bit of forbidden romance – fly.
Anna is strong-willed and doesn't meld well with the country's traditional customs, but she is captivated by the king's children, and she treasures time spent teaching them about the Western world.
The set is exotic and the show features classic music from Rodgers and Hammerstein – "Getting to Know You" and "I Whistle a Happy Tune" among them – making it a joyful experience for any classic musical theater fan.
"The King and I" is playing through April 16 at the Vivian Beaumont Theater.
Romantic twist: The story of Anna and her king is a tale of love that proves that sometimes opposites attract, and unions between cultures can be benefit entire societies.
A Gentleman's Guide to Love and Murder
Romance and murder don't always just mix on the many murder-driven shows that make up the Investigation Discovery TV lineup.
This musical comedy, made up of flashbacks from Monty Navarro's prison cell, takes on a journey from a commoner's return from his mother's funeral to learning the news that he is royalty of sorts – ninth in line to inherit the Earldom of Highhurst. (Turns out his mother had royal lineage, but left it all behind for true love.)
Monty immediately uses his new royal stature to help charm the woman he is courting, and she casually remarks that eight people would have to die in order for Monty to become Earl.
This offhand comment sets into motion a string of unfortunate deaths orchestrated by Monty – a cousin and his lover fall through a hole in the ice and drown while ice skating, the scent of lavender attracts bees to a highly allergic cousin and a stubborn mayor decapitates himself when encouraged to lift a particularly heavy barbell.
Ultimately a comedy of errors, the Tony-award winning play for Best Musical is currently playing at the Walter Kerr Theatre.
Romantic twist: Let's just say that some women will do anything to get their man.
On the Twentieth Century
They say there's a thin line between love and hate, and for Broadway producer Oscar Jaffe and his former lover, Lily Garland, that seems to be the truth.
Lily has abandoned the theater for the movies, leaving Oscar in a struggle to pick up the pieces and retain his theater.
After discovering that he and his one-time love Lily – now a famous film actress with an actor boyfriend – are aboard the same train, he hopes that he can entice her to return for one last show to help him get back on his feet.
While dodging so-called writers with dreadful ideas for plays and a religious fanatic planting stickers on every available surface, Oscar comes up with an idea on the spot for an epic drama perfectly suited for Lily, the story of Mary Magdalene.
Turns out the religious fanatic might have a bit of money tucked away to invest in the project, and Oscar begins to hope that his life could be on the upswing again.
The show stars Kristin Chenoweth and Peter Gallagher and is opening for previews on Feb. 13 at the American Airlines Theatre, with a hard opening on March 12. The show closes July 5.
Romantic twist: The show is a musical comedy with plenty of laughs, and according to research including a 2006 study in Nature News, laughter leads to romance, thanks to a flood of feel-good chemicals to the brain when we laugh.
Wicked
While the story explores Oz before Dorothy and her clapboard house land on the Wicked Witch of the East, crushing her, it is at its heart a love story, first between friends, then between lovers.
Galinda and the girl who would become the most hated woman in Oz, Elphaba Thropp, meet as roommates the university, where Elphaba realizes her magical talents. When a new student arrives, Fiyero, he immediately notices the spoiled Galinda, and the two begin a relationship. Still, Elphaba recognizes the good qualities in Fiyero, and she develops a crush that soon enough, Fiyero reciprocates after learning that Galinda's beauty might be only skin deep.
"Wicked" is playing at the Gershwin Theatre.
Romantic twist: Elphaba, the studious girl with green skin is not a natural beauty, but her brains and heart captivate her true love all the same, showcasing that there is indeed someone for everyone.
Constellations
Jake Gyllenhaal and Ruth Wilson stars in this story about a chance encounter inspired by the Robert Frost poem "The Road Not Taken," which is summed up by the line "Two roads diverged in a yellow wood / And sorry I could not travel both."
British playwright Nick Payne looks at that idea with this two-story play that explores roads not taken, adventures missed, people we never met and happiness we never had the chance to experience because we went one way and someone else went another.
The couple in the play travels through time and space to explore the possibilities that come with love as their relationship changes based on the decisions they make.
"Constellations" is currently playing at the Samuel J. Friedman Theatre.
Romantic twist: "Constellations" shows that love can be waiting behind the next corner, if only you're open to the experience.
Skylight
A May-December romance may or may not be rekindled after a man makes a stop at his former lover's house after his wife passes away.
The contemporary drama of a young schoolteacher and an older yet charismatic restauranteur who were lovers for years, until his wife discovered the affair, have different values and come from different generations, but they both want the same things, including each other, if they can get past the chasm their differences create between them.
The New York Times called "Skylight" "one of the most intelligently sentimental love stories of our time.
Starring Carey Mulligan and Bill Nighy, "Skylight" runs through June 14 at the John Golden Theatre.
Romantic twist: When it comes to love, age, politics and affluence don't always create stumbling blocks. But sometimes, they do.
The Lion King
While "The Lion King" is at its heart a story about redemption, it is also a love story that focuses on the importance of family.
The story of lion cub Simba, who has his rightful place as the king of his pride stolen after the death of his father, "The Lion King" follows Simba as he journeys through the jungle, meets new friends and rediscovers old ones, including his former best friend Nala, with whom he falls in love.
Simba eventually returns to the pride after a visit from the ghost of his father, and there, he and Nala become the happy family they were meant to be.
"The Lion King" – which the New York Times praised by saying "there is simply nothing else like it" – is currently playing at the Minskoff Theatre.
Romantic twist: This is the perfect Valentine's Day show if you couldn't get a babysitter – or want the entire family to celebrate a day honoring love.
Mamma Mia!
The setting is the wedding of Sophie, a bride-to-be who longs to have her father walk her down the aisle – if only she can determine which of her mother's former lovers is actually her dad.
On a whim, she sends invitations to each of the men in hopes that she'll finally learn the secret.
While a wedding is made for romance, it could be Sophie's independent mother, who prides herself on making it on her own without a man, who might be the one to finally be swept off her feet.
The musical comedy has been seen by 54 million people, and the show's catchy music and fast-paced dance numbers are absolutely charming.
And did we mention it's set in the Mediterranean, making for lush sets and bright, sea-inspired colors?
"Mamma Mia!" is currently playing at the Broadhurst Theatre.
Romantic twist: Sometimes the one who got away comes back in time for a second chance.
My Big Gay Italian Wedding
It seems as though everyone wants to lend a hand when Andrew and Anthony decide to get hitched.
Of course, every love story has a few road blocks along the way, and the helpers in this off-Broadway comic farce – including an ex-boyfriend who has no intention of seeing the wedding go through, a boisterous Italian mother and a comic collision course of cultures – are anything but.
Will love prevail? Most likely, but we'll all have a good time on our convoluted way to the altar.
"My Big Gay Italian Wedding" is playing through June 28 at St. Luke's Theatre.
Romantic twist: After seeing the trials and tribulations Andrew and Anthony face on the way to wedded bliss, you'll have an extra bit of appreciation for your own – ideally less stressful – relationship.
The Mystery of Love and Sex
For those who love a dramatic, complicated love story with touches of comedy, this off-Broadway show is the one for you.
Charlotte and Jonny have been friends since they were kids, but one they get to college, their relationship deepens.
Her parents, however, object to the newfound love, and as truths come to light, both families – and the relationship between Charlotte and Jonny – threaten to unravel.
"The Mystery of Love and Sex" – with Tony Shalhoub and Diane Lane in key roles – in currently in previews and opens March 2 at the Mitzi E. Newhouse Theatre.
Romantic twist: As secrets are reveals, the show eventually teaches us that honesty ultimately builds relationships, not breaks them down.
Author: Brenda Neugent