Community Theatre Keeps Broadway Classics Alive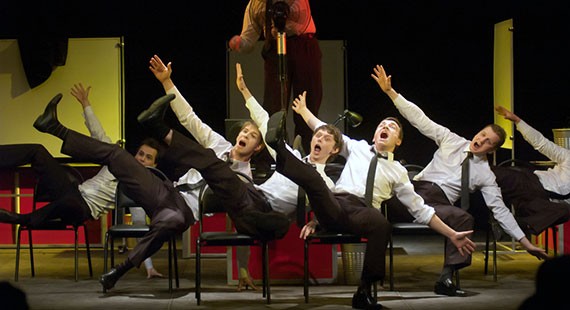 Igor Bulgarin / Shutterstock
When it comes time for a community theater group to choose its next season, the options are seemingly endless.
Comedies, door-slamming farces, musicals, mysteries and dramas are all audience-approved choices, and without an audience, many community theater organizations find themselves faced with tough decisions that often lead to a final curtain call.
Still, the right choice can mean a company will have funds to keep going another season, allowing audiences young and old will be exposed to the theater, an in-the-moment art form that feeds the soul while bringing stories to life in a visceral way with big impact.
Whether innovative or classic, the shows community theaters present are vital because they introduce the arts in a way that lasts forever, while bringing immortality to many of the best-loved Broadway-born shows in history.
A mystery, my dear
The 1979 Ira Levin ("Rosemary's Baby") mystery "Deathtrap" brings with it elements of Broadway – the older playwright in need of a hit thinks he sees one in his young protégé, and would kill to have it for himself, or so it seems – along with murder, mayhem and plot twists that have thrilled audiences worldwide.
When it opened on Broadway in 1982, New York Times critic Walter Kerr loved it, while Richard Eder panned it completely. Still, the show holds the record as the longest running comedy-thriller on Broadway, and because it has a small cast and a simple set, it's a smart choice for less affluent theater groups looking for a show that hasn't lost its murderous luster, more than 30 years after its Great White Way debut.
The voice of a comedic master
Anything by Neil Simon – the raucous "Rumors," the well-loved two-sided coin of "The Odd Couple" or his Eugene trilogy, "Brighton Beach Memoirs," "Biloxi Blues" and "Broadway Bound," is popular with community theater groups, because Simon is a master of clever dialogue and humor that's completely relatable to audiences.
His trilogy, which comes with a hint of autobiographical background, tells the story of Eugene Jerome from his youth in NYC to basic training in Biloxi, Mississippi to the beginning of his career as a comedy writer on Broadway.
"'Brighton Beach' was going to be another singular play. I still hadn't thought of a trilogy. But I decided to take Eugene the next step chronologically in my life, which was the army. But even after I wrote 'Biloxi Blues,' I still didn't think about a sequel, because if it turned out to be a bomb, why would one want to do a sequel? So I just waited to see what would happen. Well, 'Biloxi' enjoyed enormous success, and I thought of a third part," Simon said in 1986.
His many other works, including "Barefoot in the Park" and his Pulitzer Prize-winning "Lost in Yonkers," are also well-suited for community theater, where audiences would welcome the chance to see a work from one of America's most popular voices.
Small-town America
Thornton Wilder's 1938 classic "Our Town" is simple since it doesn't use a set or props, which allows the story of life in the small town of Grover's Corners, New Hampshire, to take center stage. We meet George Gibbs and Emily Webb, and follow their courtship and marriage while being given a chance to explore our own views on life and death.
Despite its age – the show premiered at Henry Miller's Theatre in NYC on February 4, 1938 – the lessons in "Our Town" are timeless, so it continues to be a popular option for productions across the country. (A 1946 showing in Soviet Union-occupied Berlin was cancelled due to fear that it would lead to mass suicide among the Germans due to the depressing nature of the dramatic work.)
A family divided
While Arthur Miller is as much known for his relationship with Marilyn Monroe as he is for his iconic "Death of a Salesman," written in 1949, he play still holds court as the top play from the last 100 years, according to rankings last year by Entertainment Weekly.
In won the Pulitzer Prize for drama in 1949, along with a Tony for Best Play, and has been revived on Broadway four times.
The story of Willy Loman, a salesman who is struggling to cling to sanity and unable to accept that his sons, Biff and Happy, are destined to be ordinary, rather than the great men he imagined them to be, is a classic one that continues to reverberate in families everywhere, making it a completely timeless play deserving of its spot on the top 100.
A musical that never grows old
There will always be a place for the sometimes dark, always classic "Oklahoma!" in community theater. The Rogers and Hammerstein score is flush with classics beyond the title track, including "Surry with the Fringe on Top," "Oh, What a Beautiful Mornin'" and "People Will Say We're in Love."
While the story about the coming together of cowboys and farmers in the vast Oklahoma territory in the early 1900s is in part a history lesson, at its heart it's a love story between cowboy Curly and farmer's daughter Laurie and well as friends and neighbors Will Parker and Ado Annie. With a dark element found in farm hand Jud, who would rather see Curly dead that win the heart of Laurie, whom he wants for himself, the musical is more honest in its portrayal of that rough-and-tumble era in American history.
A drama with a difference
While "Beast on the Moon" was first produced in 1995 – and made its NYC debut 10 years later – the play has appeared on stages in 17 countries and in 12 languages, earning five Moliere awards (the French Tony) along the way. Perfect for smaller theater companies, the drama is about two survivors of the Armenian genocide following World War I, and its emotional climax is utterly devastating, even as it brings the two – a man and his equally-damaged mail-order bride – closer together.
Author: Brenda Neugent