Film Review: Les Miserables
This is the second year in a row that Broadway has taken over Hollywood's Christmas Day offerings. Last year, Stephen Spielberg transformed the minimalist War Horse into a lush, big screen spectacular. This year, Cameron Mackintosh brings one of theatre's most beloved musicals, Les Miserables, to the Cineplex. If this incarnation of Victor Hugo's classic is any indication, Broadway may be setting up camp in the yuletide season for a long time to come.
Tom Hooper (The King's Speech) directs this riveting look at the societal underbelly of 19-century France. The film opens on an epic scene of a fleet of prisoners hauling in a ship by ropes, setting their struggles to song while policeman Javert (Russell Crowe) gazed down at them through the misting rain. This is where we meet our protagonist Jean Valjean (Hugh Jackman), or otherwise known as prisoner 24601. Valjean is on the cusp of being released after serving 19 years of hard labor for stealing a loaf of bread to feed his starving family.
Upon release, he finds himself the scorn of society, living on the streets packed with homeless. He stumbles upon a church that affords him refuge and food. He repays that generosity by attempting to steal silver from the bishop, but Valjean is quickly reeled in by the police. The bishop says he gave Valjean the silver which opens Valjean's eyes to the kindness inherent in the world, and he dedicates himself to rebuilding his life through redemption. Only redemption will have to exist outside the jurisdiction of the law as we jump several years into the future where he has broken his parole, taken on the guise of Monsieur Madeline and has become mayor of Montreuil-sur-Mer.
The foreman of Valjean's garment factory makes advances on one of his workers, Fantine (Anne Hathaway). When his advances are rebuffed, the foreman casts her out onto the street. In a desperate attempt to maintain support of her illegitimate daughter, she sells her hair, her teeth and her body in a series of gut wrenching scenes, slowly scrapping away her dwindling humanity. Valjean stumbles across her in the slums and carries this shell of a woman to the hospital for life saving attention. Valjean's grief and guilt over the role he played in bringing Fantine to this state forces him to promise to always look after her daughter, Cosette. So begins his journey to find and raise Cosette.
At the core of the story is Javert's undying devotion to find parole-skipping Valjean and drag him back to justice. Regardless of where Valjean goes or what his life transforms into, Javert is always a step behind, ready to knock him down to his proper station in life. Once a thief, always a thief is Javert's motto.
Whether you are talking about Victor Hugo's novel or the groundbreaking musical Cameron Mackintosh brought to the London stage in 1985, Les Miserables is a classic from the first song to the final page. The material is beyond reproach, and it almost seems like you can do more harm than good when reinvisioning a classic of this caliber.
The casting was critical to the film's success. Hugh Jackman was the perfect choice to bring Jean Valjean to life. He straddles the worlds of Broadway and Hollywood with ease, and in a recent 60 Minutes interview he called Valjean the role of a lifetime. It is easy to see why. Valjean is a complex character who gets kicked down repeatedly yet never allows his spirit to be extinguished. The passion and anguish stretch across Jackman's expressive face, and his vocal range is spot on. Anne Hathaway, or the Swiss Army Knife of actresses, finds the fragile soul of Fantine, and the life pours out of her with every tear. Her rendition of "I Dreamed a Dream" was one of the most poignant moments of the film. Russell Crowe is also fascinating as the dogged policeman Javert. Who knew The Gladiator could sing? The most surprising addition had to be Sacha Baron Cohen, you may know him better as Borat, who played Cosette's temporary keeper. He kept pace musically and brought a comic relief sorely needed in this very heavy film.
Probably the most distinctive element of the film was the fact it was all in song. Beyond a couple stray words sprinkled in sparingly, there was no dialog to speak of. The cast completely interacted with one another through song. In a recent interview with NPR, director Tom Hooper said it created a smoother continuity within the film, and I agree wholeheartedly. It is strange at first, but lots of musicals needlessly jar the audience about as they hop in and out of song. Once the pace is set, the film takes on an almost operatic feel that is very natural. Hooper also made a point to film the actors in close-up much of the time. This small touch really made the film pop as the emotion and gravity of a given situation leaked from the actor's expressions.
In all, Les Miserables is a powerful film that stirs you emotionally and builds upon the storied tale that is Les Mis. The Golden Globes are already showering it with nominations (Best Picture, Best Actor for Jackman and Best Supporting Actress for Hathaway), and expect Oscar to follow suit. This is easily one of the best films of 2012. The film earned the second best Christmas Day opening ever, racking in $18.2 million on a Tuesday. While Hollywood has recently avoided musicals like the plague, I think Les Miserables will prove the new gold standard, showing a blueprint for how the genre can be done right. This will hopefully translate into more musicals being drawn from the Broadway stage. Mackintosh has already said that Miss Saigon is next on his wish list so maybe Broadway can become a Hollywood Christmas tradition. It sure beats stale fruitcake.
Author: Mark Runyon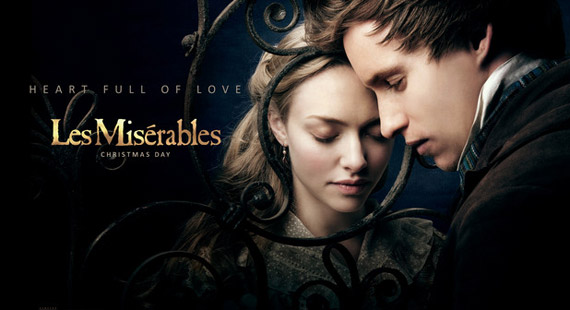 Universal