How Much Does It Cost to Put on a Broadway Show?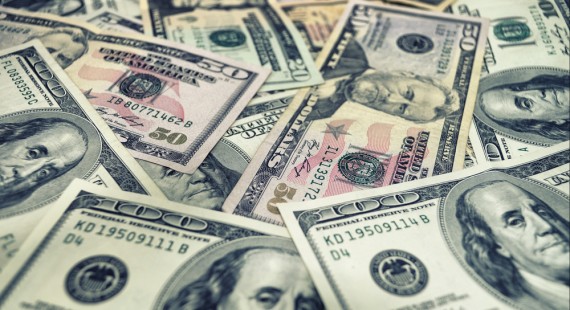 Shutterstock
In 1960, when most Broadway shows cost as much as $250,000 to mount, the producers of "The Fantasticks" spent less than $1,000 on the set and just over $500 on costumes, while the set designer, prop master, costumer and lighting designer was one guy, the late Ed Wittstein, who made $25 a week on the gig.
Wittstein was a Broadway veteran also did set design for the Woody Allen movie "Play It Again, Sam." His last Broadway production was 1980's "King of Schnorrers."
But the producers of "The Fantasticks" were creative with a buck, and lucky, since the musical became one of the longest-running on Broadway, meaning the show made both producers and investors plenty of money.
In general, however, the success story of "The Fantasticks" is an anomaly.
Many a local theater company has gone out of business because the costs to put on a show were not recouped at the box office, and even though Mickey Rooney started his career with optimistic "put on a show" movies, at the end of his career he was putting on shows to celebrate the openings of mid-level department stores, and he died broke.
Big risks, big opportunities
That's ultimately the same lesson offered by Broadway, which can make or break you, depending on how a show is received.
A bad review from New York Times reviewer Ben Brantley can kill a show pretty quickly, according to one theater blogger for NYTX.com. "A rave can instantly turn a little show that nobody has heard of into a huge hit, and a pan can usher a promising work straight into obscurity," the blogger added.
The riskiest shows are musicals, and according to the New York Post, four out of five fail to provide returns to investors.
"Some 21 percent of musical shows recouped their costs while 79 percent did not," Ken Davenport of Davenport Theatrical Enterprises told the Post. Davenport has produced hits including "Kinky Boots" and "Godspell."
And when it comes to shows in general, the numbers are not much different.
An estimated 20 to 30 percent of Broadway shows including musicals, dramas and comedies fail to turn a profit, according to Tim Donahue and Jim Patterson in their 2010 book "Stage Money: The Business of the Professional Theater."
Of the 343 productions mounted between 1999 and 2008, the two said, only a handful made big money. Just 20 hits accounted for more than 60 percent of the $7 billion made during that time, "The Lion King" and the Mel Brooks musical comedy "The Producers" among them.
Clearly, it's a bold move to invest in a Broadway show, but if you strike gold, it's worth it.
"It's a business like venture capital," Donahue said in an interview with The New Yorker. "It's high stakes, high risk, very high return if you hit it."
And while Max Bialystock of "The Producers" thought he had a sure-fire plan for making big bucks on Broadway by staging a sure-fire flop, for most shows, failure means big losses for almost everyone involved, especially given the high costs of mounting a show these days.
Costs of a show: An overview
Musicals can run between $10 and $15 million ("The Book of Mormon" cost $9 million, according to the New York Times), but in the case of the problem-plagued "Spider-Man: Turn Off the Dark," producers spent a whopping $79 million – almost $5 million alone on two years' rent at the Foxwoods Theatre during show delays.
After the show's three-year run, "Spider-Man" investors – likely beguiled by the involvement of U2's Bono and The Edge – lost about $60 million. (Another rock star show, Phil Collins' "Tarzan," was also a pricy bust. The show cost $16 million to mount, but closed after less than two years, leaving investors holding the (empty) bag.)
"The costs are getting out of control on Broadway," said veteran Broadway producer Sonia Friedman in a 2011 interview with the New York Times. "On Broadway these days, even with a movie star, it's very hard to survive."
Some reported show costs:
2013's "Rocky" cost approximately $16.5 million to produce. Almost a quarter of that was spent on the set, which according to the New York Post was budgeted at $4.3 million and included a life-sized boxing ring that rises up and over the audience.
Dreamworks spent "$25 million to produce "Shred the Musical," and are hoping to make up the losses while on tour.
Disney's "The Lion King" cost $20 million before the curtain rose on opening night.
Disney's first foray into Broadway, "Beauty and the Beast," cost $17.4 million, but the show ran for 13 years, so the risk paid off.
Costs of 'Wicked': A breakdown
"Wicked," a prequel of sorts to "The Wizard of Oz," cost $14 million to mount, and is one of the rare musicals to become a complete smash hit on Broadway, despite a tepid review from the powerful Ben Brantley.
That sum included:
$2.66 million on publicity and marketing (19 percent)
$2.38 million on insurance and transportation (17 percent)
$2.24 million on actors fees (16 percent)
$2.24 million on construction materials (16 percent)
$1.96 million on miscellaneous costs (14 percent)
$1.40 million on designer frees (10 percent)
$1.12 million on director, stage manager and playwright (8 percent)
"Wicked" recouped that initial $40 million investment in 14 months, and has since grossed more than $500 million, only the third show in history to do so.
It costs about $800,000 a week to maintain the show, including actor fees (on Broadway, actors in lead roles make almost $10,000 a week, while those in featured roles make about $3,500 a week), theater rentals – 10 minutes of marquee time at the Orpheum can set you back $250 – and staff salaries, commissions and a host of other costs including incidentals such as makeup and hair care products and staff, costume repairs and royalties.
Still, the show makes more than $1 million a week, so "Wicked" remains profitable, more than a decade after it first opened.
'Phantom' on stage
In 1988, Andrew Lloyd Webber's "The Phantom of the Opera" – featuring opulent sets and costumes that rival those of any show – cost Andrew Lloyd Webber's The Phantom of the Opera cost $12 million to mount.
According to Playbill, the show has used 1,140 tons of dry ice, 1,688,000 flash bulbs for the show's centerpiece chandelier, 253,200 AAA batteries, 45,760 makeup wedges and 1,020 makeup sticks for the Phantom alone, who requires 90 minutes of prep time prior to each performance.
The show is also the highest-grossing musical on Broadway, and has earned more than $900 million.
Breaking down the show expenditures
Rent. Off-Broadway stage rentals run $5,500 to $6,600 per week for a 299-seat house, $7,000 for a 399-seat house, and $8,000 for a 499-seat house. Broadway theater prices can run as high as $20,000 a night.
Rehearsal space. The producers of the Broadway show "Spider-Man: Turn off the Dark" were paying rental fees for a theater for two years while working through revisions. Add rehearsals and imagine the skyrocketing costs.
Set pieces and props. While community theater productions can pool resources with hand-me-downs and flea-market finds, Broadway audiences expect – and get – much more. The set of "Cabaret," for example, includes the seedy Kit-Kat Klub as well as Fraulein Schneider's boarding house, while "The Phantom of the Opera" features scenes both above and below the Paris Opera House where the show is set. And "Wicked" has a set that propels cast members into the sky, making it the second-most expensive of Broadway sets behind "Spider-Man." The estimated cost of a Broadway show's set is about $250,000, but costs can run as high at $500,000.
Costumes. Shows such as "Aladdin" or "The Lion King" feature elaborate costumes that the most seasoned costume designers will tell you can take weeks to create. "The Little Mermaid" had myriad costumes as well as a mystical underwater set that helped propel the 2008 show's initial budget to more than $16 million. Most Broadway shows budget about $50,000 for costumes, but for more elaborate shows, those costs can rise considerably.
Lighting. Lighting costs are about the same as costumes, and average about $50,000, although in the case of "The Phantom of the Opera," which has so far required more than a million flash bulbs for its centerpiece chandelier, the costs would naturally be much higher.
Hair and makeup. Every night, shows spend about $200 per cast member on hair and makeup, including artists and supplies.
Musicians. The orchestra can cost $75 per hour per musician or more for both performances and rehearsals.
Advertising. Broadway often includes television advertising (ever since Bob Fosse became the first to do so when he advertised "Pippin" with an attention-grabbing TV spot), newspaper and magazine ads, online advertising and playbill ads.
The times – and price tags – are changing
While the producers of "The Fantasticks" were able to get away with mounting the original production of the show for peanuts, costs have gone up considerably since then.
According to producer Emanuel Azenberg, who brought Neil Simon's "Brighton Beach Memoirs" to Broadway in 1982 for $500,000, said the same show now will cost about $3 million.
"Over the last 25 years, all the costs have spiraled with no constraints," Azenberg told Bloomberg BusinessWeek. "The director's fee was $25,000 then. It will be $100,000 now. An ad in the Times was $20,000 then; it's $110,000 now. With payments to the pension fund and health plans, the cost of union labor today is $100 an hour."
So, how are those costs recouped?
While some shows can make up for Broadway losses on tour, for the most part, the consumer is footing the bill.
As the cost of mounting a Broadway show has gone up, so have ticket prices.
The average price of a Broadway ticket is $100, according to the Broadway League, and that could price theatergoers out of the market, making it more likely that the most costly shows will have a tough time making up the costs.
"I think there's no question that rising prices on Broadway are problematic," producer Stephen Hendel told the Los Angeles Times.
"At some point, Broadway shows run the risk of pricing tickets beyond the capacity of many potential audiences," added the producer, whose credits including the Tony Award-nominated "After Midnight," "Fela!" and "American Idiot."
So what about the good seats?
"The Book of Mormon" charges more than $475 for its best seats.
"Kinky Boots" ticket prices are almost $350 for high-end seats.
"Wicked" fans who want the best seats in the house will pay $300.
Star power also sends premium seat prices soaring.
"A Raisin in the Sun" starred Denzel Washington, which allowed tickets to top out at $348. Washington also appeared in 2010's "Fences," a show by August Wilson which offered premium tickets for $351.50
"Betrayal," starring Daniel Craig and Rachel Weisz, sold high-end seats for $423.
The one-man show "Hugh Jackman: Back on Broadway" only ran for eight performances, but raked in a record $1,468,189.
Tickets for "The Producers" starring Nathan Lane and Matthew Broderick ran as high as $600, especially when the show took home a record 12 Tony Awards, breaking a record previously held by Hello Dolly!" Not only did "The Producers" break the record for the largest single-day box office ticket sales in theater history, earning $3 million in one night, it also broke its own record when Lane and Broderick returned after departing the show, making more than $3.5 million in a single night.
Tickets are so high, Broadway producer Ken Davenport told the Daily Finance's Mark Acito, because Broadway shows are getting more expensive to produce with every passing year.
"Most Broadway shows cost between $300,000 and $600,000 a week to run, with the bulk of the costs going to advertising and theater rental," he told Acito. "At 1,500 seats, do the math."
That doesn't always sit well with actors who perform for the love of the art.
"Every single year it keeps topping itself," said Cheyenne Jackson ("Xanadu") in a Huffington Post interview. "I have mixed feelings about some of the bigger shows in just that the ticket prices are so expensive. … It's so hard for tourists, when they come here, to pay upwards of $200 a seat. That's the hard part. But as long as people will pay it, then producers will go ahead and charge it. That's my biggest gripe right now."
Save money and still see a show?
There are ways to see the top-rated shows on Broadway for less, fortunately for those on a budget.
Discounts are available on a variety of websites including newyork.com, broadwaybox.com, theatermania.com and playbill.com.
Visit a TKTS Booth, and save as much as 50 percent off full-price tickets.
A few hours before curtain time, rush, lottery or standing room only tickets can be had at the box office for $25 to $35, if you are willing to take a risk. Some only offer the lower-priced SRO or rush tickets to students, but lottery rush tickets are usually available to anyone willing to wait in line and again, take the risk of not making the cut.
Author: Brenda Neugent