How to Impress a Broadway Casting Director and Nail the Job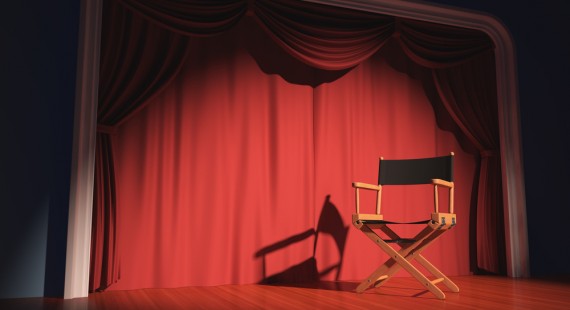 Shutterstock
Anyone who had been on Broadway will tell you it's a tough gig.
There will always be someone in the audition room who is thinner than you, sexier than you, taller than you, prettier than you or has spent WAY more time in the gym than you.
The process can be intimidating and demoralizing, but confidence and a healthy self-esteem to buffer against any negative voices in your head will make it easier to give casting directors what they want.
Of course, the most important piece of advice anyone can give or get is to be prepared. The Boy Scouts, even as they work through discrimination issues, at least did get something right. If you know you audition material inside-out, know the mood you're supposed to be bringing to the set, know the spirit of the show you're auditioning for, you'll be that much more ahead of the game.
Do your homework
While you don't have to be reading complete off-book when you audition, it's important that you understand the nuance of the show.
"It you've spent quality time with the material, you're going to know it," said casting director Risa Bramon Garcia, whose credits include "Rosanne," "How to Make an American Quilt," "The Doors," "Natural Born Killers" and "JFK," among others. "This includes knowing all the players and the show or film's tone and style. Read all the material you can get your hands on."
By understanding the show, you'll better understand exactly what casting directors are looking for in the audition room, and you'll stand a better chance of a call-back.
Seeing the show, and others, is also important prep work.
It's one thing to read the show and understand the show, but if you land an audition, head to the box office and nab a ticket to see the show that you'll be auditioning for. Understanding everything, including the mood the show is projecting on stage, is an important part of the process.
"One of the first questions I ask people who sit in front of me looking for a job is, 'What shows have you seen lately?' And then I ask, 'Have you seen mine?'" said Ken Davenport, whose credits include "Kinky Boots," "Godspell" and "Speed the Plow."
"I can't tell you how many people say no," he said. "Does it count them out? Not 100 percent. But the people that say yes? Oooohhh, they vault to the top of the leader board. It's not about kissing ass or putting some bucks in my till. It's about a gesture that says, 'I'm interested in seeing the work that goes on here, so I can show you how I can contribute to making it even better.'"
Make that all-important first impression
If you're in an audition room, make sure you're making a good impression, said Garcia.
(Some of the actors that Garcia cast at the beginning of their careers include Daniel Day Lewis, Johnny Depp, Sandra Bullock, Sean Penn, Kiefer Sutherland, Gwyneth Paltrow, Madonna, Adrien Brody, John Malkovich, Meg Ryan, Tim Robbins, Tea Leoni, Christian Slater, Ben Stiller, Macaulay Culkin, Aidan Quinn, Martha Plimpton, River Phoenix, Frances McDormand, Patricia Arquette, Johnny Galecki, Juliette Lewis, Kyra Sedgwick, Kevin Bacon, Sarah Jessica Parker, William H. Macy, Philip Seymour Hoffman, Jason Segel, Leslie Mann, Kevin Spacey, Joaquin Phoenix and George Clooney, among others.)
And they all had one thing in common. They made that all-important first impression, and it was good.
Be easy to work with
Walking in like a diva is the fastest way to get sent home. Remember when Melrose on "America's Next Top Model" played the diva on set, mimicking the "$10,000 a day model" she was supposed to appear as in her photo shoot? She almost ruined her chances of continuing in the show, and that's how things are in any work setting.
Casting directors are looking for an actor that is easy to work with, able to take direction, and have the ability to act in a way that the director wants.
The audition is a job interview, and making the best first impression is the most important part of the process.
As one casting director put it, "I am going to utilize a quote from my favorite dude, Abe Lincoln, to sum up my feelings about quality of character: "'Character is like a tree and reputation like a shadow. The shadow is what we think of it; the tree is the real thing.'"
If you behave like a diva from the start – not being kind to everyone you come into contact with, having an attitude of entitlement when you enter the audition room – you won't be considered a professional, and will instead be seen as a liability by the casting director and everyone else associated with the show.
"My secret to all casting, and specifically kids, is cast good human beings," said M. Night Shyamalan, whose movies include "Signs" and "The Village," among others.
He's not alone.
When Gary Ross was casting for "The Hunger Games," it's likely hundreds of girls auditioned for the role of Katniss. But it was the charming, self-depreciating Jennifer Lawrence – the epitome of niceness – who stood out and nabbed the role.
"I absolutely cast the right person for the role," Ross told Entertainment Weekly, "and in my view there wasn't even a question who the best Katniss was. It was the easiest casting decision I ever made in my life."
If you make a terrible first impression by being rude or not following directions, you'll develop a reputation as being difficult, and that could limit changes later in your career, given how relatively small the entertainment industry circle is.
Make sure you fit the show
Like Cinderella's glass slipper, the right fit is essential to an essential show. Why else would the directors and producers of the recent revival of "Annie" have spent two years in search of just the right group of girls to play Annie and her fellow "Hard-Knock Life" orphans?
From a casting director's perspective, making the right choice is essential to a show's success. The wrong person in the wrong role is completely noticeable, while the right person makes a show come completely alive.
It is, in most cases, the most important part of the entire process.
"Casting is everything," said Steve Buscemi, who has played myriad roles ranging from "Fargo" to "The Big Lebowski" and recently, "Boardwalk Empire," but got his training on the stage. "Getting the person that you imagined is this character and then seeing what they bring to it."
And if you see someone famous waiting for an audition – a sitcom star or reality TV castoff, perhaps – it might not be the kiss of death for you, but it could be the kiss of the death for the show if they get hired over someone more suitable for the role.
Casting someone famous in a show – a TV or movie actor, for example, such as the recent casting of NeNe Leakes as the Wicked Stepmother in "Cinderella" – can damage a show's flow, reputation and reviews, because many reality stars, TV actors and even film actors can't take their work and translating it to the stage.
Only the shows that are performed before a live studio audience – all of Bob Newhart's shows, "All in the Family," "The Big Bang Theory" and "Mike and Molly," among others – would have actors prepared for a live stage show.
"Putting TV stars in plays just to get people in is wrong. You have to have the right people in the right parts. Stunt casting and being gimmicky does the theatre a great disservice. You have to lure people by getting them excited about a theatrical experience," said Catherine Tate, who recently had a run as new boss Nellie on the hit sitcom "The Office."
Enjoy getting to know every part of the business
Most Broadway performers understand all aspects of the trade, from the work of the stage hands and lighting designs to set building and beyond, because each part it absolutely critical in getting the show right.
"That means anyone looking to get a job in the biz has to start where everyone else does," said Davenport. "At the bottom. That means low wages, grunt work, and probably no health insurance. No matter what your age or your degree. But do what you're told with a smile on your face, and you'll rise to the top quicker than you can say 'I went to graduate school for this?'"
Understand that casting directors want you to succeed
Every time a new person steps in front of a casting director, that person is hoping that there will be the magic spark that they have been looking for since actors, singers and dancers started passing through the doorway.
"We're rooting for that every time you walk into the room. You show up and do your fullest, deepest work, and we'll slay dragons for you and follow you anywhere. And man, we'll be so happy doing it. You have the power to make that happen. For you. For us. For the work," said Garcia. "Casting directors are your advocates and your champions. Your work reflects on us. Your wonderful work makes us look good and gets that role cast. Your disconnected, tentative, muddled work does nothing for anyone. We need you to be great. We're here to host your experience and shepherd you in, not hold you back. We want to share in your excellent work."
That means that leaving your nerves at the door is essential. Sure, you might be nervous, but is important not to let it show, and instead take total command of the room, making it your own personal stage. Confidence is everything.
Now is the time to remember why you want to be part of the Broadway experience. Remember the first show you saw that set that fire in your belly ablaze, and absolutely go for it. Giving it your all every time will make your audition exceptional, and you more likely to land that elusive part.
Make the role your own
In order to stand out, says Garcia, making bold, personal choices about your charter will attract positive attention from casting directors. It is your job as the actor to make the words on the pages of the script pop off the page.
In the same way all the judge's chairs on "The Voice" tend to spin around when someone puts a truly unique spin on a classic song, making it original and all their own, a casting director will remain rapt at your audition if you follow your own path, and don't give the same elements of the role that everyone has seen before.
"We want your unique voice to bring the script to life," Garcia said.
Networking gets you noticed
You can send in a million resumes, make the same number of phone calls and send twice as many emails, and it's likely all of them will end up in the trash if you're an unknown.
According to Davenport, attend all Broadway-related events you can. Go to galas and opening nights. Attend conferences and workshops. Each will get you noticed.
"I've hired at least three people who grabbed me for an intro after listening to me speak on a panel," Davenport said.
No email contact is going to surpass a face-to-face one, which allows you to show your true spirit in a way that might be misinterpreted on a black page.
"Casting sometimes is fate and destiny more than skill and talent, from a director's point of view," said Steven Spielberg, who likely found a few of his best-loved stars in the same way.
The right mix of cast and crew is as much alchemy as turning straw into gold – and the results are as satisfying.
Play your role right – be kind, be on time, be determined and be prepared – and you stand a better chance of becoming part of the process.
Author: Brenda Neugent