Interview: Brad Bass Recalls His Most Wicked Memories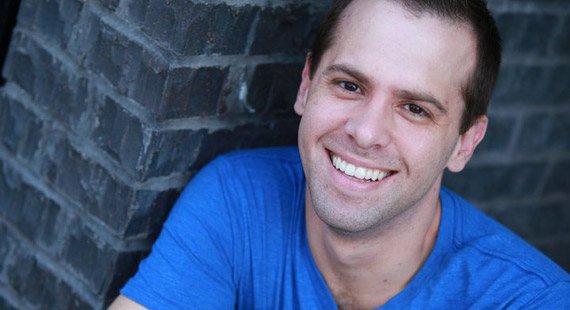 Brad Bass
If Brad Bass were to talk about his relationship with Broadway today, he would likely say it's complicated.
Bass was known as Broadway Brad back in his hometown long before he ever understudied the role of Fiyaro in the Tony Award-winning musical "Wicked," and he dreamed of becoming a well-respected member of NYC's theater community.
As an understudy in "Wicked," he mastered virtually every role in the show, and when he landed the coveted role of Fiyaro, the prince who romances the self-assured Elphaba before she became as the Wicked Witch of the West, he was thrilled to land it.
"I cried, and went berserk when I found out how much money I'd be making," he said in an interview in 2007.
Growing up, instead of traditional gifts at birthdays or Christmas he asked for tickets to Broadway shows, and he saw "Les Miserables," "Rent" and "Sunset Boulevard," among many other big-name shows. In high school, he played Tommy Albright in the romantic "Brigadoon," the only musical his small high school drama department in rural Virginia had ever produced.
The exposure firmly cemented his Broadway ambitions, however, and after he graduated from NYC's renowned American Musical and Dramatic Academy – other notable grads include Tyne Daly, Jesse Tyler Ferguson, Gretchen Mol and Paul Sorvino – Bass soon found himself in his first professional gig, the Gateway Playhouse production of "The Best Little Whorehouse in Texas." The show was ironic, since after his mother heard of his Broadway aspirations, she responded by saying, "All those people are drug addicts and prostitutes."
Other shows with the Long Island-based playhouse soon followed, and then came "Wicked," a part he landed due to impeccable vocals, a commanding stage presence and confidence that came from years of hard work.
But soon, he found that the grueling schedule – eight shows a week along with regular rehearsals – allowed no room for an off night, especially with social media "critics" waiting in the wings to bring performers down.
"We're not robots, and we're not going to give a perfect performance every night," he said. "But we can give our heart."
And that, Bass did, each time he took the stage.
"When I'm in a play, I'm going to give every piece of me," he said. "I owe it to the people who paid so much to see it."
But investing so much of himself had a price, and he soon found the Broadway lights he loved so much were growing a bit dim.
"I literally thought it was going to be the most amazing thing in the world," he said. "You imagine it to be glitz and glamour and famous people and fancy parties, and it is, but really, you get on stage and things are duct taped."
Too, the required discipline isn't confined to the stage, and spills into off hours, where diet, sleep and lifestyle all play a part in the next performance.
"The real world is hard, it's a job, and you have to work harder than you ever would think you have to," he said. "It's so hard getting up at the crack of dawn and putting yourself out there, saying, 'Please like me.' You have to have balls of steel."
That was when he began to realize that what he imagined to be fun – "it's called a play, so let's play and make it magical and beautiful," he said – was instead, in the majority of situations, a job focused on the fiscal bottom line rather than the art.
"I left 'Wicked' when I found myself out there on stage dancing, thinking, 'I'm out of dog food, I'm out of body wash,'" he said. "I'm doing my grocery list while I'm on Broadway."
Bass then landed the role of Perry Como in "Memphis," which opened on Broadway in October of 2009 after pre-Broadway runs in La Jolla, Calif., and Seattle, and followed that with a stint in "Jersey Boys." Although both immersed him in the diverse musical genres that make up the patchwork of contemporary music, his last NYC show left him feeling flat, and less enthusiastic about what was once his first love.
"Doing 'Jersey Boys' was one of the worst experiences of my life," said Bass, who found that the stage manager's harsh approach undermined his confidence to the point it was a detriment to the show.
"She was of the devil," he said, "and I'm not that kind of human being. I was really miserable, and realized there was more to life than this."
Bass chose a hiatus from NYC, and that has helped him rediscover what he loves most about theater.
He belts out show tunes in his car whenever he can, and is serving as the musical theater department's artist-in-residence at Averett University, a private college in Danville, Va., that is working to add musicals to its repertoire. His life is a mix of teaching and classes, since he is also pursuing his bachelor's degree in theater, and hopes to also earn his master's, a move that could lead to a spot as musical director at the school.
This spring, Bass is stepping into Bob Fosse's shoes to direct and choreograph a production of "Sweet Charity."
He's also trying on another pair of footwear – those worn by Cole Porter, Sondheim and Kander and Ebb – by writing a musical via Skype with a friend from NYC.
The show – based on a movie that will go unnamed until they secure the rights – will provide a new avenue to get to Broadway, one that will allow him to retain the sense of magic and wonder that served as his original lure.
"I never felt like I was done with Broadway," he said. "If you would have asked me five years ago, I would have said I can't see myself doing anything else. But to me, kindness is paramount. I believe in empowerment and nurturing goodness in every aspect of theater – and in life."
Author: Brenda Neugent
Images Courtesy of Brad Bass