Interview with Chris March: Actor & Costume Designer for Christmas with the Crawfords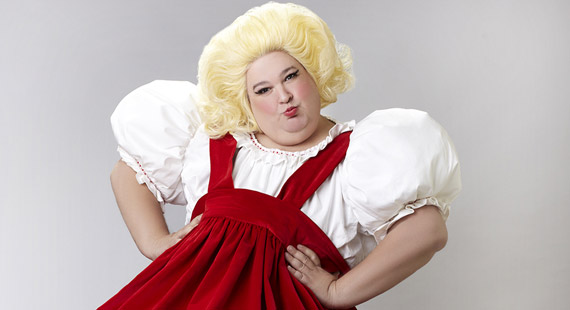 Chris March
Given Chris March's penchant for perfection, appearing on stage in a show he's also costumed presents a bit of a conundrum, especially when he sees the stage lights hit a dangling thread that should have been snipped backstage.
Short of carrying a pair of scissors in his pocket a la Boo Radley and sneaking over to lop the wayward thread – which he confesses to have nonchalantly done a time or two – he's left to stew about the imperfection of the thread, a mishandled button or other costume disaster that he hopes only his eyes can see until the curtain goes down on the scene.
Such is the life of a top designer. March, who became synonymous with dramatic designs when he appeared on season 4 of "Project Runway," is currently playing Christina Crawford in the satirical holiday production "Christmas with the Crawfords," for which he also designed the costumes.
"It's a funny situation for me to be in, because I'm also watching the costumes and how they look and how they're working," he said. "I can't get that costume guy out of my head."
It's no wonder, really. Since "Runway" he has since created red carpet and stage looks for celebrities ranging from Meryl Streep and Beyoncé to Lady Gaga and Madonna, among many others, but long before that, he was firmly established as one of the top costumers on both coasts.
The California-born March spent 10 years as the costume designer for "Beach Blanket Babylon," a San Francisco-based show that is now the longest-running musical review in America. March spent 10 years with the show, studded with glitzy pop-culture icons that gave him the chance to develop dramatic personas for existing celebrities.
He continued his Hollywood-themed costume design with his first stint as the costumer for "Christmas with the Crawfords," a 1992 play inspired by a "Saturday Night Live" sketch that aired shortly after the release of "Mommy Dearest," a tell-all from daughter Christina Crawford about the hell she suffered at the hands of her adopted mother Joan Crawford.
The show is set on Christmas Eve in 1949, when Crawford gathered her four children to present a radio program from their Brentwood mansion as a way to boost the once-stellar actress's box office clout. Like the "SNL" skit, "Christmas" features impromptu visits from many of the Hollywood legends of the era, who seemingly stop by to gather gossip on the woman whose legacy had suddenly become her wild, abuse-filled rampages, usually directed at Christina.
March's 2002 costumes for the show – which was then also in San Francisco – earned a Drama Desk Award nomination, his first such honor.
"It was very exciting," he said of flying to New York for the awards ceremony. "I didn't even know there was such a thing as a Drama Desk Award, but it's like the Golden Globes of the theater."
He was nominated alongside William Ivey Long ("The Producers," "Hairspray") and Bob Mackie, an icon who has designed some of Cher's most show-stopping looks and was the costume designer for the entire run of "The Carol Burnett Show."
"Lily Tomlin presented," said March. "She read my name right after she read Bob Mackie's."
While he questioned at the time how he had gotten so lucky to be sharing an awards category – Long won that year – with one of his idols, March and Mackie are now good friends and fans of each other's work, which comes as little surprise given that both have a love of glitz and shimmer.
For March, his return to "Christmas with the Crawfords" gives him a chance to recapture the glamorous days of Hollywood – with a touch of divaliciousness tossed into the mix.
For this year's show, he created matching red velvet dresses for Joan and Christina inspired by an iconic photo of the two, along with several costume changes for Joan, including one masterpiece, "a fantastic evening gown from the era," that features by 12 yards of satin.
He also designed a madcap Carmen Miranda costume – "with I don't know how many miles of ruffles" – along with dramatic looks for Judy Garland and Gloria Swanson, among other Hollywood legends who were known for their bold personalities.
And while creating a recognizable essence of Hollywood royalty through costumes has its own challenges, creating one-of-a-kind designs for celebrities is still the bigger test.
"Working in theater, especially, there are a lot of deadlines and a lot of changes and challenges, so you learn that freaking out isn't going to help you at all," he said. "You can't let someone go out on stage naked."
That's why he was able to stay calm in the workroom during his run on both "Project Runway" and "Project Runway: All-Stars," from which he was recently eliminated.
"It is very, very much harder to design for a real celebrity," said March, who offered a behind-the-scenes look at one fashion emergency on his 2011 show "Mad Fashion," when he showcased actress Jennifer Coolidge's last-minute call for an Ice Queen Mardi Gras creation. Although he only had a few days, he called in reinforcements, and the dress was an absolute success, as is usually the case given March's years of experience.
"I've been dressing thousands of people of all different body types and all different tastes," he said.
Still, "every celebrity has little quirks," he added, and sometimes the wrong idea of what looks good on them, making it up to him to finesse his ideas into the final outcome.
"Some are notoriously easy [clients such as Madonna are open to everything] and some are notoriously difficult," he said.
Those red carpet challenges make designing for "Christmas" a refreshing change, even though the territory is not exactly new for him.
"It's really fun to use that old Hollywood glamour, and it's really fun to play with all the images and go over the top," he said.
Given the storyline and the characters, the show is also a fun option for those who can't tolerate the thought of another touching, saccharine-sweet holiday classic this season.
"It's the antidote to the sweet Christmas crap," said March. "An anti-Christmas Christmas … if you can laugh at child abuse."
"Christmas with the Crawfords" – which stars Joey Arias as the infamous Joan Crawford – opens in preview at 7:30 p.m. Dec. 10 at the Abrons Art Center, 477 Grand St.
Performances will be held at 7:30 p.m. Dec. 11, 16-18 and 23-24, at 8 p.m. Dec. 12-13, 19-20 and 26-27 and at 7 p.m. Dec. 14 and 21.
General admission tickets are $45 and are available by calling (212) 352-3101 or at abronsartscenter.org.
Author: Brenda Neugent
Images Courtesy of Chris March
For more on what Chris is up to, checkout his website.