Interview with Kinky Boots Voice Coach Amy Jo Jackson: A Master of Vocal Illusion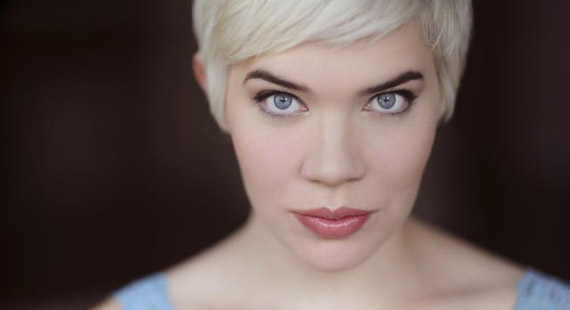 Amy Jo Jackson
Amy Jo Jackson is like a real-life Henry Higgins, although her current charges are the cast members of the Broadway musical "Kinky Boots," about a shoe factory revamped to make large-size footwear for drag queens in need of sexy but supportive stilettos.
No Eliza Doolittle in this crowd, but since Jackson can do a spot-on Cockney accent – it was her first, learned for a role in a school production of "Oliver" by copying what she had seen on TV – the London flower girl would certainly be no challenge.
With a long resume including classic Shakespeare juxtaposed against modern, edgy works, the theater grad from Boston Conservatory revels in helping actors better step into their character's shoes, guiding them in their quest to become the role in a way that's seamless and completely believable to their audience.
"Sometimes, when I listen to people doing a dialect, it sounds very stilted," she said. "I just don't believe that you're a person, let alone that character."
That makes the suspension of disbelief impossible to achieve, and can crush not only a performance, but also an entire show.
In Jackson's hands, however, the technical aspects of learning a dialect – a complex mix of sound, muscle movements and confidence – become easier, and even seasoned actors who have never done an accent before and are a jumble of nerves about even trying it can melt and shape-shift into their characters.
Jackson had one of her biggest tests as the vocal coach for a production of "These Seven Sicknesses," an adaptation of the tragedies of Sophocles from Chicago-based playwright Sean Graney. It opened in 2012 at Tribeca's Flea Theater, but from the first reading, the need for her services was apparent.
"I think the whole room of Oedipus's were all from New Jersey," she said, "and didn't exactly sound like majestics speaking this classical text."
Still, the young Bats (non-union actors who are part of the Flea's company) were eager to learn – and put their Jersey Guido personas behind them.
The bigger challenges, Jackson said, come from those who have been led to believe over the years that for them, dialects are pretty much out of the question.
"People tell themselves stories all the time – 'I'm not good at this' – only because one teacher one time told them so," Jackson said. "There's a lot of work you have to unpack so that they know it's not impossible."
Jackson has long been a master of voices, and before she realized she still pursue acting while making money as a vocal coach – a natural fit as she comes from a long line of teachers – she scheduled an appointment with her own coach to improve her French accent.
She was told, probably from her first "s'il vous plait," that her accent needed no work, but Jackson still knew she was faking it, and wanted to break down that wall.
"She said, 'Amy, you're never going to be French. You'll always be faking it,'" Jackson recalled.
Still, that doesn't stop her from striving to perfect her craft by going deeper into an accent, creating a voice so genuinely nuanced that it will fool even the most discerning ear.
"My goal is to be so good, so textured that I can pass among natives," she said. "That feels so impossible, and that's what keeps me working and refining. It's humbling, because there's so much more to learn."
With a diverse background – her resume includes roles ranging from Magenta in "The Rocky Horror Picture Show" to Glinda the Good Witch in "The Wizard of Oz" – Jackson is able to adapt quickly to new challenges, and thanks to a lesson from her mother, a fourth grade teacher, she learned that she had to use those skills to make sure that all of her students are able to grasp the complex, technical concepts she teaches.
"Each person learns differently. Some are visual, some are aural, some are tactile. Some people need to have their hands on their faces and keep touching their lips to trick their brain into getting their mouth to do what they want," she said, while others – like Jackson herself – are able to capture the nuances simply by hearing them.
Teaching not only helps Jackson serve as a support system for her peers, it has also allowed her to develop her own skills more fully, and she can now slip into a cold reading and immediately find her character's voice, whether she's from the Deep South, the Bronx, Russia or the streets of London.
"I'm able to make a lot of choices on the fly that work," she said.
Still, sharing that skill with others – especially as one of only a handful of dialect coaches in NYC – is equally rewarding.
"It's fulfilling for me to know that on the whole, actors think of me as someone who is on their team, who is helping to build them up and support them and make them better in their storytelling," she said.
"You're never going to fool everybody," Jackson added, but by giving her clients the tools they need, many of them can come close.
To learn more about Amy Jo Jackson, to check out her history or to find out more about hiring her as a vocal coach, click here to visit her website.
Author: Brenda Neugent