Larry David Goes Fishing in the Dark on Broadway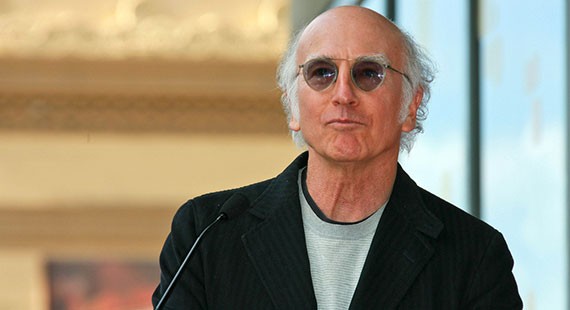 s_bukley / Shutterstock
Larry David is a master at making his own life – and the lives of his friends – seem infinitely interesting.
Throughout his career – which includes a stint as a writer on "Saturday Night Live" – he has long been able to take the minutia that encompasses our daily lives and showcase the humor of it all. He not served as co-creator of the hit sitcom "Seinfeld" (the character of George Costanza is loosely based on David's own life, and Seinfeld's neighbor, Kramer, was inspired by Kenny Kramer, a neighbor David had while living in Hell's Kitchen) but after the "show about nothing" went on to create "Curb Your Enthusiasm," which also allowed him to play a semi-fictionalized version of himself.
Now, the New Yorker is doing it all again with the Broadway production of "Fish in the Dark," a black comedy about a death in the family inspired by the experiences of a friend.
"My friend Lloyd Braun, his father died, and we were talking about it and thought it would make a good play," he told Jimmy Fallon on "The Tonight Show." (The character of Lloyd Braun, a childhood friend of George Costanza, appeared on "Seinfeld" several times, including in one episode where he upstaged George when the two sold computers over the phone for George's dad, Frank. He was named for David's lawyer and manager.)
"He started telling me about it, and it was pretty funny, even though somebody died," David added in an interview with Bill Simmons on the ESPN podcast "The B.S. Report."
"So I just started writing it. Hearing those laughs in the theater seemed like it could be fun," he added.
David told the New York Times that the character he plays in the show – his first on stage appearance since he donned a dress for an 8th grade production of "Charley's Aunt" – is "somebody very similar to Larry David – it might even be Larry David with a different name."
David began writing the show – which is set to open March 5 (previews begin Feb. 2) at the Cort Theatre for a limited engagement – last summer, and although he originally only imagined offering some critical suggestions after opening night, he instead found himself taking on the role he'd written inspired by himself, at the urging of the show's producer, Scott Rudin ("The Book of Mormon," "Raisin in the Sun").
"I thought it would be pretty cool to write a play someday," he said. "I didn't think it'd be pretty cool to be in it. It's not like I would go to the theater and look up on stage and say, 'I could be in that.' I didn't think of myself playing the character, but of course I write characters very close to me."
That made it easy to fall into the character he plays in "Fish in the Dark," despite his initial plans.
"I had been prepared to just go to some rehearsals as the writer, watch quietly, say a few words, then go to a few performances and pace around the back of the theater, give some notes, pace some more. But now this. Something has gone awry," he said in the New York Times interview. "I didn't really want to do it, but, I mean, do you know Scott? He's a very persuasive fellow, and I give him a lot of credit for that."
Under the direction of Anna D. Shapiro ("August: Osage County"), the show features a cast of 15 that in addition to David includes Rosie Perez, Rita Wilson and Ben Shenkman, among others.
And while a death in the family might sound like typical territory for David – on "Curb Your Enthusiasm," David's character used the death of his mother, which he missed while he was filming a movie, and didn't learn of until after the funeral, to get out of a number of invitations to events he had no interest in attending – that didn't stop him from expressing a bit of his usual angst during his sit-down with Fallon, which also included a segment on dogs' dislike of the sardonic funny man.
"If it's terrible, they're not going to hang me? It's not a capital offense?" he asked.
David has won numerous Emmy Awards for his work on both "Seinfeld" and "Curb Your Enthusiasm."
On a technicality, "Fish" won't be David's first foray with Broadway.
His character of "Curb Your Enthusiasm" did fictionally land the role of Max Bialystock (originated by Nathan Lane) in the Broadway production of "The Producers" during the 2004 season of the show, after running into Mel Brooks in a bathroom.
Author: Brenda Neugent