Les Miserables Kansas City | Music Hall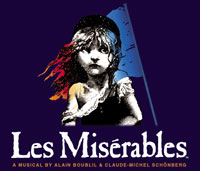 Kansas City simply can't get enough of this timeless Boublil and Schonberg Broadway classic. From December 5th to 10th 2017 at the Municipal Auditorium Music Hall, 'Les Miserables', the riveting French Revolution drama based on Victor Hugo's novel of the same name will be staging a brand new revolution of its own – a revolution celebrating 25 years of countless shows, tours and acclaims; a revolution reliving the legacy of its original author by using his artworks as the inspiration for the refreshing and rousing scenic designs this production boasts; and a theatrical revolution reminding audiences of the many reasons this show continues to be a hit – a universal and timeless story that never ceases to send shivers down the audiences' spine in sheer poignancy and intense motivation, coupled with ageless show tune standards that underscore the musical's celebration of fervent hope, soaring dreams and admirable resilience in a world where infinite possibilities and bleak futures lie vis-à-vis.
The performance running time is 2 hours 50 minutes with 1 intermission.
Review the ticket options featured below for premium seating and sold out tickets. Tickets may be above face value and this site is not affiliated with the venue.
Les Miserables Kansas City Cast
Jean Valjean – Peter Lockyer
Javert – Andrew Varela
Cosette – Lauren Wiley
Maurius – Devin Ilaw
Fantine – Genevieve Leclerc
Eponine – Briana Carlson-Goodman
Thenardier – Timothy Gulan
Madame Thenardier – Shawna M Hamic
Enjolras – Jason Forbach
Creative
Producer – Cameron Mackintosh
Author/Dramatist – Alain Boublil
Book & Music – Claude-Michel Schonberg
Lyricist – Herbert Kretzmer
Adaptation & Direction – Trevor Nunn & John Caird
Costume Designer – Andreane Neofitou
Orchestratoins – John Cameron
Address: 301 West 13th Street, Kansas City, Missouri 64105
Music Hall Capacity: 2400
Map: