Looking into Broadway Up Close Walking Tours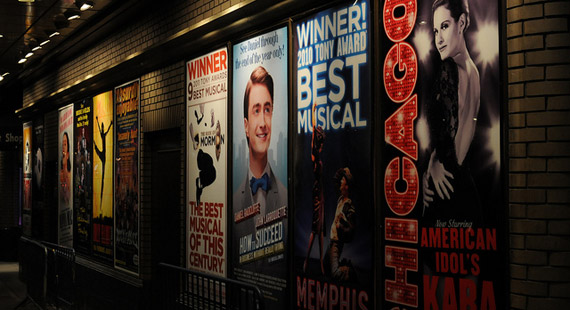 BroadwayTour.net
It doesn't matter if you are touring the Coliseum in Rome or marveling at the Sagrada Familia in Barcelona. Walking tours are an invaluable way to see a city. Knowledgeable tour guides show you the insiders look at pivotal moments in history and tell the story that exists just behind the stone and rock. NYC is no different. You can book a walking tour to explore Greenwich Village, taste the cuisine in a food tour and even go off the beaten path to tour all five boroughs. For the theatre lovers visiting the Big Apple its only logical to wonder if Broadway has its own Walking Tour. Well look no further than Broadway Up Close Walking Tours.
What is a Walking Tour?
In a nutshell, a walking tour is designed to give participants a behind the scenes look at the wonderful world of Broadway. The official site describes the tour as delving "into the stories of those who have 'tread the boards' of Broadway," as well as dealing with the architecture and history of the Broadway theatres themselves.
What does a Walking Tour Entail?
Participants can expect to spend about 2 hours walking a distance of about ½ mile in length hearing insider information, facts, and stories related to their favorite shows and theatres. Broadway Up Close employs New York actors and licenses tour guides to take participants on this journey which offers a unique and personalized experience for everyone.
And no, this tour is not just a bland history of when shows and theatres opened. You can expect everything from ghost stories, to trivia as well as personal stories from the guides about certain shows. The Act I tour begins at the Nederlander Theatre on 41st street and ends on 45th street in the heart of Times Square. The Act II tour is perfect for anyone who has already taken the Act I tour and is looking for even more history and entertaining anecdotes.
Who are the Guides?
The program's tour guides are Tim Dolan (company owner), Theresa Flanagan, Michael Lamasa, Drew Pournelle, John Scacchetti, Bret Shuford, Beverly Simpson, Katie Johannigman, and Ben Holtzman. And I can't forget the mascot — a dog by the name of Monster. All of these individuals have a long list of educational and professional achievements related to theatre in one way or another.
This team boasts resumes that include accomplishments such as appearances on HBO's Boardwalk Empire, membership in the Actors' Equity Association, BFA's in Musical Theatre, performances in regional productions of West Side Story and Cinderella, and performances in films such as The Wolf of Wallstreet & Bedfellows to name just a few of their combined successes.
What is the Cost?
The cost of a walking tour is $30.00 per person plus a service fee of $5.00 per transaction. This cost must be paid prior to your reservation. Upon request, private tours and group rates can be made available. A group must consist of more than 15 people to qualify for group rates.
Is it Worth the Money?
If you're expecting an up close look inside the theatres, you probably won't want to spend your money on this tour. Union restrictions prevent anyone not closely associated with the current production from entering the theatres. However, this experience can prove to be very insightful and exciting, especially for a true theatre fan like myself.
Numerous people have given this experience rave reviews on TripAdvisor.com, ranking it the number 4 attraction in New York. Ron R remarked, "If you are "in the business" or have a love of theatre, this tour is for you. An amazing tour that gives insight to the history of Broadway." Benjamin D reviewed the experience saying, "As a performer, I found this tour to be very insightful and entertaining! Our guide was extremely knowledgeable and fun! He used some multimedia to help visualize the past history of Broadway's oldest Theatres and folk lore to go with them. Didn't hurt that our tour guide was a performer. Made the experience a bit more personal."
In addition to the love of the overall experience, people also seemed to be very impressed by their tour guides. User jcmom5 shared, "My daughter and I had a very personalized tour last weekend with Mikey. He was so entertaining and knowledgeable. We learned a lot, and will definitely be back for part 2!" Ken J went on to say, "I went on this walking tour conducted by Tim Dolan. It was wonderful! Tim is an engaging, entertaining authority regarding New York and Broadway theatre history."
And if those reviews don't intrigue you, it may be worth mentioning that Broadway Up Close Walking Tours has been awarded the TripAdvisor Certificate of Excellence in 2012, 2013, and 2014.
So whether you want to delve deeper into Broadway itself or you find yourself just looking to pass some time, Broadway Walking Tours seems like a reasonably priced and fun experience to partake in.
Anyone interested can visit Broadway Up Close Walking Tours or call (917) 841-0187 for further information.
Author: Diamond Grant