Neil Simon Has Been Racking Up Honors Since His First Broadway Play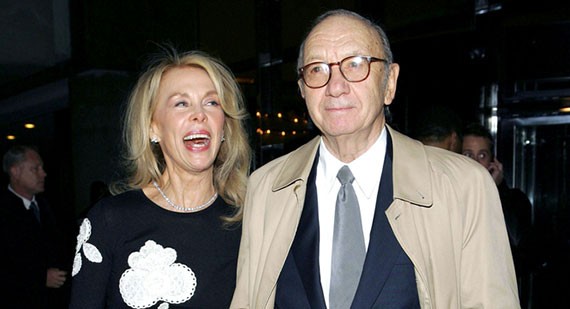 Everett Collection / Shutterstock
With more than 30 plays under his belt, Neil Simon is not only one of America's foremost playwrights, he is also the only playwright in history to have four plays running simultaneously on Broadway.
(Those were "Barefoot in the Park," which ran from Oct. 34, 1963, to June 25, 1967, "The Odd Couple," which ran from March 10, 1954, to July 2, 1967, "Sweet Charity," which ran from Jan. 29, 1966 to July 15, 1967, and "The Star-Spangled Girl," which ran from Dec. 21, 1966 to Aug. 5, 1967.)
A child of the Depression, Simon refined his comic chops writing for Phil Silvers and Sid Caesar, which he later turned into the play "Laughter on the 23rd Floor."
"Between the two of them I spent five years and learned more about what I was eventually going to do than in any other previous experience," Simon said.
His first, "Come Blow Your Horn," took Simon a painstaking three years to write, but it ran for 678 performances on Broadway, kicking off a career that within two years – after "Barefoot in the Park" in 1963 and the forever beloved "The Odd Couple" (coming back to TV this season) in 1965 earned him not only a Tony, but also accolades including being called "the hottest new playwright on Broadway."
His myriad works have included his famed semi-autobiographical trilogy – "Brighton Beach Memoirs," "Biloxi Blues" and "Broadway Bound" – his first farce, the wildly funny "Rumors," and a play inspired by his own divorce, "Chapter Two."
He has earned 17 Tony Award nominations and has taken home three, and he is the only living playwright to have a theater on Broadway named after him.
But despite his decades of success, his career began with a sense of angst and insecurity that plagues many artists.
Come Blow Your Horn, 1961. He rewrote the play at least 20 times, "And I mean from beginning to end," Simon said. "It was the lack of belief in myself. I said, 'This isn't good enough. It's not right.' That doesn't mean I could make it better, but I felt I had to try … It was the equivalent of three years of college. Today, it seems like the crude markings in a cave by the first prehistoric chronicler. Still, it was an important step for me. The theater and I discovered each other."
The Odd Couple, 1965. Simon compared the stars of his most memorable play, Walter Matthau and Jack Lemmon, to a husband and wife. "I worked with them separately a number of times on plays and movies, but they worked absolutely together like a husband and wife that get along not good but anti-good. That's where all the humor came from," he said. "When I was writing 'The Odd Couple' I always thought Jack was a wife and Walter was the husband."
According to Lemmon, the play – and Simon's – success comes from his ability to create characters that are as real as they are interesting. "Neil has the ability to write characters — even the leading characters that we're supposed to root for — that are absolutely flawed. They have foibles. They have faults. But, they are human beings. They are not all bad or all good; they are people we know," Lemon said.
Rumors, 1988. Many writers say that the best humor comes from personal pain, and that was certainly true for Neil Simon. His first farce, "Rumors" was born during trying times for the celebrate playwright. "'This marriage I was in was breaking up. My daughter's husband was killed in an automobile accident. It seemed like rough going. And I said I wanted to work, because work is always a cathartic process for me, and I thought it would be really good just to get into a comedy. I really was in the mood to sort of go back and write just out-and-out funny, because it's what I felt I needed in my own life. So I thought it would be fine just to go into rehearsal with a comedy, with a farce, even though they are the hardest to write," he said in an interview with the New York Times.
Lost in Yonkers, 1991. He earned a Pulitzer Prize for Drama for this story about two boys who are sent to live with their traditional grandmother when their father is forced to go on the road as a salesman to earn money after his wife dies. It premiered in Winston-Salem, N.C. before moving to Broadway in February of 1991, but still, the work came no differently than any of his others. "I just like to plunge in. I'll start right from page one because I want to hear how the people speak. Are they interesting enough for me? Have I captured them? It goes piece by piece, brick by brick. I don't know that I have a play until I've reached thirty, thirty-five pages."
Brighton Beach Memoirs, 1983. The first of Simon's three semi-autobiographical plays, "Brighton Beach" was written "about the family I wished I'd had instead of the family I did have," he said in an interview with Paris Review. The play was followed by "Biloxi Blues" at the suggestion of Stephen Spielberg, and "Broadway Bound" followed naturally.
Notable:
At the start of his career, Simon wrote for the Sid Caesar show "Your Show of Shows." The staff also included Mel Brooks, Woody Allen and Carl Reiner. "I knew when I walked into "Your Show of Shows" that this was the most talented group of writers that up until that time had ever been assembled together," Simon said.
In 1983, a 1920s-era theater on Broadway was renamed the Neil Simon Theatre.
Simon married his third wife, Diane Lander, twice. They divorced for the second time in 1998. He is currently married to actress Elaine Joyce.
Simon won both a Tony Award and a Pulitzer Prize in 1991 for "Lost in Yonkers."
Simon didn't expect "The Odd Couple," arguably his most popular play, to be successful. "I thought "The Odd Couple" was a black comedy. I never thought it was going to be popular, ever," he said in an interview with Paris Review.
Author: Brenda Neugent