Profiling the Best College Theatre Programs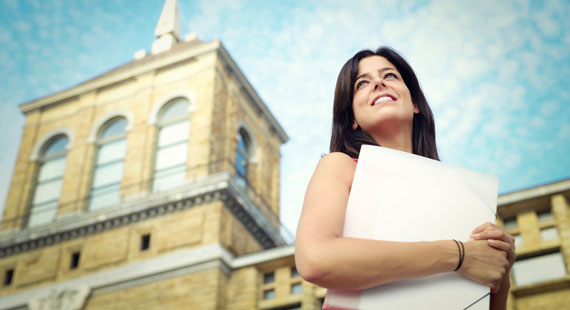 Shutterstock
There are certainly no shortage of theatre programs both nationally and internationally, but there are a few that standout amongst the rest. Below is a list compiled of some of the greatest theatre programs and what each has to offer.
California Institute of Arts
Students of the CalArts program in Valencia, California benefit greatly from their close proximity to Los Angeles, a prestigious film school, and visits from greats such as Ming Cho Lee, Elizabeth LeCompte, and Gordon Davis, as noted by The Hollywood Reporter writer Tim Appelo. Alums of the program include Alison Brie and Don Cheadle.
Carnegie Mellon University
Carnegie Mellon University was founded 10 years prior to Yale's drama school. Famous alums include Steven Bochco, Ted Danson, Holly Hunter, Rob Marshall, and Zachary Quinto.  Located in Pittsburgh, six Oscar award winners, 24 Tony award winners, and 95 Emmy award winners have all walked through this program on their way to fame and success, serving as a testament to Carnegie Mellon's ability to produce jaw dropping talent.
Howard University Theatre Program
The Howard University Theatre Program is not just one that is recognized within the African American community, but it is one that is recognized nationwide. Its notable alums include the Debbie Allen, Phylicia Rashad, Taraji P. Henson, Isaiah Washington, and Anthony Anderson. Graduates from the Washington, D.C. based program are currently "on Broadway and television, in films and on radio, in major dance companies, theatres, the music industry, arts organizations, and more. Plus, nationwide and internationally alums teach in the arts and academics at public and private schools and serve as professors at colleges and universities," according to the program's official website.
London Academy of Music and Dramatic Arts
The London Academy of Music and Dramatic Arts (LAMDA) opened in 1861. Notable alums include Benedict Cumberbatch, John Lithgow, and Donald Sutherland. This program is revered as a world-class performing arts institute renowned for its excellence in theatre education. LAMDA's acclaim comes from producing a host of former students being honored in film, television, or theatre as well as an array of critically acclaimed writers on a regular basis.
Northwestern University
Northwestern University, located in Evanston, Illinois,  has a substantial list of high achieving and well-known graduates. The first female studio chief (Sherry Lansing), the second woman to win a directing Tony award (Mary Zimmerman), and triple Oscar-nominated writer John Logan are all notable alums as well as household names like Warren Beatty, Stephen Colbert, and Julia Louis-Dreyfus.
NYU: Tisch School of the Arts
Tisch's BFA and MFA programs are highly revered and received high marks from the CSA. Tim Appelo quoted CSA member Monika Mikkelsen as saying, "They have a power city to draw from (New York City), an acting school, directors, writers and filmmaking programs, and students are well-rounded and clear on the very hard course of life they have chosen for themselves."  Program alums include Alec Baldwin, Michael C. Hall, the late Philip Seymour Hoffman, and Jeremy Piven.
Royal Academy of Dramatic Art
It is no wonder that the Royal Academy of Dramatic Art's (RADA) graduates thrive. Graduates are assigned at least two RADA mentors who are pros with a minimum of three years of experience. This gives them a better ability to navigate the acting world successfully. Program alums include Anthony Hopkins, Clive Owen, Diana Rigg, Peter O'Toole, and Tom Wilkinson.
State University of New York
The theatre program at State University of New York located in Purchase, N.Y., offers its top BFA actors an opportunity to audition for more than 300 agents, producers, and casting directors in New York and Los Angeles. Edie Falco, Melissa Leo, Parker Posey, and Stanley Tucci are among this school's notable alumni.
The Actors Studio Pace University
As if being able to say you were in the only drama school associated with the well-known and well-respected Actors Studio isn't enough, this New York based program provides its students the chance to study under faculty appointed by its presidents — Al Pacino, Harvey Keitel, and Ellen Burstyn. The school's famous alums include Chris Stack and Xanthe Elbrick.
The Juilliard School
The Juilliard School is one of the most well known college theatre programs in the country. Located in New York City, this program boasts notable alums such as Jessica Chastain, Viola Davis, Adam Driver, Kelsey Grammer, Kevin Spacey, and Robin Williams among many others.  Those who graduate from this intense and hardcore theatre program leave with "formidable language skills, script savvy and thick skins," as phrased by The Hollywood Reporter writer Tim Appelo. 
UC San Diego
Located in San Diego, this theatre program shares both shops and staff with the Tony Award winning La Jolla Playhouse. Out of 500 program applicants, only 200 undergrad and 60 MFAs are chosen to be a part of this prestigious program. Alums include the late James Avery and Danny Bernstein.
Yale School of Drama
The Yale School of Drama is another highly respected theatre program. Located in New Haven, Connecticut, this program's alums include Angela Bassett, Patricia Clarkson, Paul Giamatti, Paul Newman, Meryl Streep, and Sigourney Weaver. The program at the Yale School of Drama is popular because it places students right in the center of the national theater world. The Yale Rep has created over 20 premieres of original dramatic works including two Pulitzer finalists since James Bundy, the program's dean and artistic director, started in 2002.  Graduates come out of the program like an elite corps of acting engineers: precise, well-read and eerily calm," according to a Casting Society member.
This list of talent producing prestigious college theatre programs are among the best in the world. Each program offers its students a unique and rigorous learning experience that is sure to produce greatness.
Author: Diamond Grant