Stephen Sondheim's 'Into the Woods' was a Natural for the Movies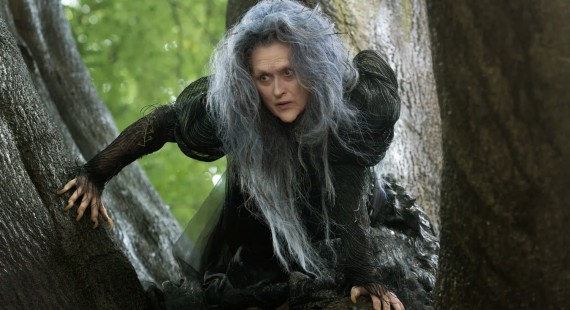 Disney
It's been more than 25 years since Stephen Sondheim's "Into the Woods" opened on Broadway, but that didn't stop the movie version from trouncing the competition at the box office.
Since it opened on Christmas day, the Disney version of Sondheim's fractured collection of fairy tales – with lessons about good and evil, right and wrong, real and make-believe along with the power of wishes and what happens when they come true – has already earned $90 million, along with rave reviews.
The musical weaves together popular fairy tales including "Cinderella," "Little Red Riding Hood," "Jack and the Beanstalk" and "Rapunzel," held together by the fresh tale of a Baker and his Wife, both desperate to have a child. The stories come together happily in the first act, only to devolve into something much darker in act two.
The movie version features Meryl Streep at the Witch, a role that went to Bernadette Peters when the musical opened on Broadway in 1987.
And while it seems like a natural fit for film, given its infectious music – and a fresh appreciation for movie musicals and fairy tales on film – but Sondheim never imagined the Tony Award-winning show, steeped in fairy tale morality along with a twist of realization that things are not always as they seem, on film.
"You never think of those things when you're writing a show," he told the Los Angeles Times. "I mean, maybe some people do. There's no way of knowing whether it would attract an audience — particularly in an era when musical movies are not as frequent as they used to be, like the '30s and '40s. So no, never. Never occurred to us. What did occur was that, if the show worked, it would have a great future life in schools, colleges and regional theaters."
According the movie's director, Rob Marshall ("Chicago"), "Into the Woods" is the third-most performed school production, which helped lure both actors – including James Corden as the Baker, Emily Blunt as the Baker's Wife, Johnny Depp as the Wolf and Anna Kendrick as Cinderella – and audiences to the production.
Music and lyrics by Sondheim, along with the book by James Lapine, didn't hurt either.
Sondheim first worked with Lapine on "Sunday in the Park with George," a musical inspired by the Georges Seurat painting "La Grande Jatte," in which no one character is looking at another, a fact that intrigued both Sondheim and Lapine. When Lapine pointed out that the main character – Seurat himself – was missing, Sondheim knew a musical was born. It took home a Pulitzer Prize for Drama in 1985, and launched a relationship reminiscent of Kander and Ebb and Rodgers and Hammerstein that brought the two together again two years later.
When Sondheim suggested a fairy tale, Lapine quickly pointed out that fairy tales are problematic because "they really only five minutes long," Sondheim said on Bravo's "Inside the Actor's Studio."
"There's one incident, maybe two, and that's all there should be. Which is exactly the trouble with all the attempts to expand fairy tales and make them into plays and musicals. So the notion arose of mashing a number of fairy tales together. James held them together by inventing his own, the story of a baker and his wife. Some of the fairy tales got dropped on the road. We had the Three Little Pigs in there, we had Rumpelstiltskin, we had everybody — everybody was in the woods. But eventually we had to cut it down," Sondheim said.
The show opened on Nov. 5, 1987, and ran for 765 performances, closing on Sept. 3, 1989, with a Tony for Best Score and Best Book and a Drama Desk award for Best Musical.
A 2002 revival with Vanessa L. Williams as the Witch ran for 279 performances, and earned a Tony for Best Revival of a Musical.
The show's latest theatrical incarnation is currently in previews off-Broadway at the Laura Pels Theatre, and is set to open officially on Jan. 22.
Produced by the ensemble theatre company Roundabout, the 10-person show is as scaled down as the movie version is lavish, giving viewers the opportunity to see the show in a completely different way.
For the theater company, "Into the Woods" is the group's first musical, and one that seemed a perfect fit given its rich cast of characters and compelling storyline.
"There's all kinds of amazing theatrical challenges in it," said co-director Noah Brody. "How are you going to do the wolf? How are you going to do the giant? How are you going to tell this story with this number of people in the cast? To pick a line from the show that we've often quoted, it made us 'excited and scared,' and that's something we look for."
Author: Brenda Neugent