The Most Coveted Roles on Broadway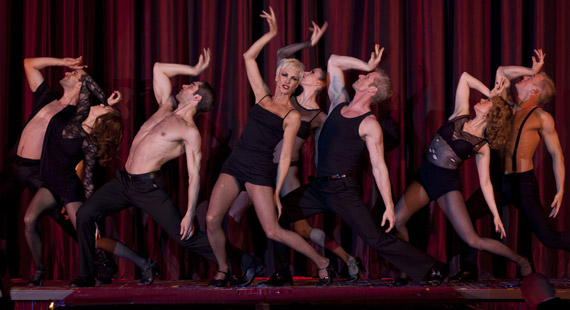 lev radin | Shutterstock
There's nothing that incites an actor's creative spirit more than roles that allow them to shape-shift like a chameleon, stretching their own personas through pure transformation.
On Broadway right now, there are myriad roles that allow actors to undergo just such a metamorphosis, and these are the parts that actors long for when they're compiling their dream jobs.
And while classics like "The Phantom of the Opera" and "Les Miserables" will always entice, there are other roles on Broadway right now that are just as meaty and offer the same opportunities for growth.
Hedwig in 'Hedwig and the Angry Inch'
The gender-bending role of Hedwig – which has attracted stars including Tony Award-winning Neil Patrick Harris, "Rent" star Anthony Rapp, former Brat Packer Ally Sheedy and Michael C. Hall, who is currently playing the role – is attractive to actors not only because of the gender twist, but also because the character remains on stage for most of the show, making it a challenging test of skill and endurance.
The story of an East German rocker who undergoes an unsuccessful gender reassignment surgery offers the opportunity to portray pain, angst, anger and confusion – all wrapped up in a complicated rock star package.
Michael C. Hall ("Dexter") will play Hedwig through at the Belasco Theatre through Jan. 18.
Roxie Hart and Velma Kelly in 'Chicago'
Bob Fosse costumes, 1920s-inspired music by the legendary team of Kander and Ebb and a plot that zings, this Tony Award-winning show has va-va-voom sex appeal, and while all the roles have something to offer, these two – originally played by Bebe Neuwirth (Velma) and Ann Reinking (Roxie) in the 1996 revival – are the juiciest.
The show got its start back in the 1920s, when Chicago Tribune reporter Maurine Dallas Watkins was assigned to cover the 1924 trials of accused murderers Beulah Annan, who inspired the character of Roxie, and Belva Gaertner, who led to the creation of Velma.
The public was hungry for scandalous gossip back then, and the media portrayals of those on trial had a huge impact on the outcomes.
While "Chicago" is a vaudevillian-inspired satire, it still rings true, making it a compelling study of human nature, even amid all the trappings of sex and violence that audiences lust after.
"Chicago" has been playing at the Ambassador Theatre since opening in 1996.
Elphaba in 'Wicked'
Before Dorothy dropped down on Oz aboard her clapboard Kansas house, Elphaba – later known as the Wicked Witch of the West – was finding her voice in college, Glinda the Good Witch was the epitome of spoiled little rich girl and the characters that would become famous through "The Wizard of Oz" were just getting started.
Elphaba – a richly-drawn character awash with personal conviction and a longing for true love – had depth beyond her stunning makeup and costumes as she struggles with personal tragedy.
Originally played by Idina Menzel (best known currently for singing the award-winning song "Let It Go" from the animated movie "Frozen") Elphaba is the ideal stage witch – less evil than misunderstood, which is how Margaret Hamilton saw her Wicked Witch of the West, decades before anyone ever got to know Elphaba.
"Wicked" has been playing at the Gershwin Theatre since 2003.
Joseph Merrick in the 'The Elephant Man'
When the story of Joseph Merrick was first told on film by David Lynch in 1980, viewers learned an important lesson about the vast differences between inward and outward appearances.
With the story almost close enough to touch on stage, the message becomes all the more compelling
For Bradley Cooper, who has thus far made his living playing sex symbol parts – Sandra Bullock's character make almost every move possible to attract his attention in "All About Steve" – this particular role allows him to showcase his acting ability without attention paid to his appearance.
But the role is life coming full circle for Cooper. He said watching the David Lynch movie is what inspired him to become an actor, and he even made a visit to the hospital where Merrick was treated while doing graduate work at the Actors Studio Drama School.
"Lynch created a character with John Hurt that was sort of innocent and beautiful and effortlessly benevolent, and there was something so moving about him, given all of his adversity, that just crushed me, as a kid," Cooper told the New York Times in an interview last month. "I just felt so akin to him."
Bradley Cooper will play the role of Joseph Merrick through Feb. 15 at the Booth Theatre.
Alan Makepeace and Melissa Gardner in 'Love Letters'
Older actors usually have a hard time finding roles with a lot of teeth, which is why A. R. Gurney's Pulitzer Prize-winning "Love Letters" is so popular not only on Broadway, but at community theaters across the country as well.
The show first opened in 1988, with the playwright himself playing the role of Makepeace opposite Holland Taylor.
Currently starring Alan Alda and Candice Bergen, the show – a story of two friends who exchange letters about their lives over the course of 50 years – has also lured other stars to Broadway, including Colleen Dewhurst and Jason Robards, Polly Bergen and Robert Vaughn, Timothy Hutton and Elizabeth McGovern, Swoosie Kurtz and Richard Thomas, Elaine Stritch and Cliff Robertson and Robert Foxworth and Elizabeth Montgomery, among many others.
Alda and Bergen will star through Dec. 18 at the Brooks Atkinson Theatre. Stacy Keach and Diana Rigg and Martin Sheen with Anjelica Houston will follow.
Author: Brenda Neugent