The Mulifaceted Life of Sam Shepard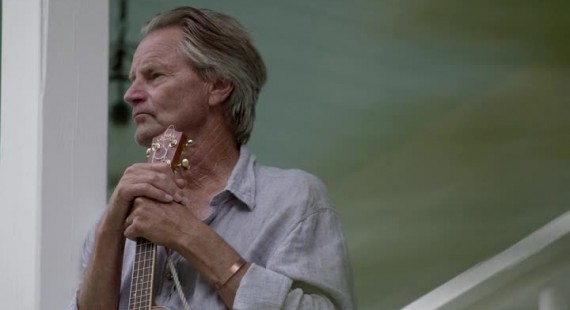 Netflix
Given his diverse career background, Sam Shepard clearly shuns predictability.
Born on an Army base in Illinois, Shepard originally planned to become a vet, and was studying at Mount San Antonio Junior College when a touring theater company, the Bishop's Company Repertory Players, came through town.
When it left, so did he, and a year later, in 1963, he found himself in NYC, where he embarked on a long-term affair with rocker Patti Smith – they wrote Shepard's play "Cowboy Mouth" together – and began his career as an award-winning playwright.
"Back then, there was a dearth of American theatre," he told the Guardian in April. "There was nothing going on. American art was starving."
He wrote one of his first two-act plays, 1967's "La Turista," when he was just 23. The work featured unlikable characters suffering from an unpleasant affliction common to tourists traveling to Mexico, and although it won an Obie Award and critical acclaim, it didn't always play to appropriate audiences.
"The most hostile audience I faced was up at the American Place Theatre when we were putting on 'La Turista.' They invited all these Puerto Rican kids, street kids, and they were firing at the actors with peashooters," he recalled.
Shepard also has a lengthy acting resume. He starred in "Days of Heaven," "The Right Stuff "and "Frances" with Jessica Lange, which sparked a 27-year relationship, and dabbled as a musician, playing drums with the bands Lothar and the Hand People and the Holy Modal Rounders. He collaborated with Bob Dylan on the song "Brownsville Girl," and also gave the rodeo a try.
Still, writing was the heart and soul of his art.
"I think without writing I would feel completely useless," he told the Observer in a 2010 interview.
By 1980, he was the most produced playwright in America after Tennessee Williams, and the two had in common a recognition of family at its most terrible, a commonality threaded through their works that has given both completely unforgettable voices.
"It's one of the great tragedies of our contemporary life in America, that families fall apart. Almost everybody has that in common," Shepard once said.
Some of his most revered plays explored the depths to which a family can crumble.
Buried Child, 1977. When Vince brings his girlfriend, Shelly, home to meet his family, she at first finds the old farmhouse completely charming, like a "Norman Rockwell cover or something," she says. Of course, that's before she steps inside, where the family's dark, decaying secrets eventually come to light, revealing through incest, infanticide and unbridled rage that there's no Normal Rockwell charm in this dysfunctional family – one drunk, one simple-minded, one left disabled and angry after a chainsaw accident took a leg.
"Buried Child" took home the Pulitzer Prize in 1979, and was nominated for five Tony Awards when it was revived on Broadway in 1996 under the direction of Gary Sinise, including Best Play.
True West, 1980. Set in suburban California, "True West" also explores family, through the story of two very different brothers with a destructive sibling rivalry. Austin, an Ivy League grad who writes screenplays, and Lee, who gets by doing odd jobs somewhere in the Mojave desert, struggle to come together despite their differences, a conflict many families face.
The duality between the two brothers is given more clarity through Lee's wild-west roots juxtaposed against Austin's buttoned-up civility.
"I wanted to write a play about double nature, one that wouldn't be symbolic or metaphorical or any of that stuff. I just wanted to give a taste of what it feels like to be two-sided. It's a real thing, double nature. I think we're split in a much more devastating way than psychology can ever reveal. It's not so cute. Not some little thing we can get over. It's something we've got to live with," Shepard said.
The show opened first in San Francisco, with Peter Coyote as Austin and Jim Haynie as Lee. Later that year, it opened at Joseph Papp's Public Theater in New York City, starring Tommy Lee Jones as Austin and Peter Boyle as Lee.
A 2000 revival starring Philip Seymour Hoffman and John C. Reilly (the alternated the leading roles) earned Tony Award nominations for both actors as well as nods for best director and best play.
But Shepard also likes a love story, as long as there's a bit of conflict in the mix. "Cowboy Mouth," his 1971 collaboration with his one-time partner, Patti Smith, is a twisted, surreal dreamscape about two lovers with big desires and an inevitably sad destiny, while 1983's "Fool for Love" explores the lives of two people destined to be together, and was born from Shepard's conflicted emotions about leaving his then-wife for Jessica Lange.
"Falling in love is such a dumbfounding experience. In one way you wouldn't trade it for the world. In another way it's absolute hell," Shepard said.
Interestingly enough, even as he pushes his characters apart through actions, deeds and emotional conflicts, in reality, his works are all meant, in some way, to bring us all together again.
"I stay away from heavy-handed stuff, the good guy and the bad guy," he told the Guardian. "It just doesn't interest me; all it does is create more fences between people, I think."
Shepard, 70, is currently at work on his first novel.
Author: Brenda Neugent