The Prince of Broadway: Hal Prince Will Leave a Legacy that Transformed Theater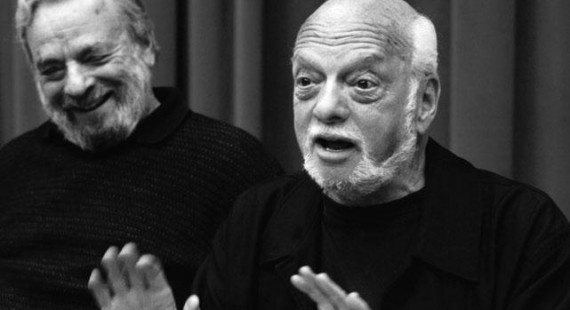 Photo: Education at Signature Theatre
Born in the shadow of Broadway, it seems unlikely that Harold  – "Hal" to his friends – Prince would choose any other destiny than the Great White Way.
His start, however, was not as illustrious as his resume – which includes 21 Tony Awards, more than anyone else on Broadway, would suggest.
His works include producer credits for shows including "Fiddler on the Roof," "The Pajama Game," "A Funny Thing Happened on the Way to the Forum," "West Side Story" and "Damn Yankees," among others, and producer-director credits on a series of smash hits including "Cabaret," "Company," "Follies," "A Little Night Music" and "Candide." He also directed "Sweeney Todd," "Merrily We Roll Along," "Evita," "The Phantom of the Opera" and a revival of "Show Boat" as well as the acclaimed "Kiss of the Spider Woman."
He collaborated with some of the best along the way, including Stephen Sondheim, with whom he created "West Side Story," "Company," "Sweeney Todd" and "Follies," among others, earning them the unspoken title of Broadway's contemporary Rodgers and Hammerstein.
Although the two, as Prince says, eventually "got sick of each other after working together for so long," they did not part ways with any animosity, and Sondheim says,  "My goodness, yes, of course we will work together again." After his Sondheim collaborations, Prince worked with Andrew Lloyd Webber on both "Evita" and "The Phantom of the Opera," but turned down the chance to direct the long-running "Cats."
Prince's passion came early
Harold Prince grew up attending Broadway shows, and attended both the Franklin School, a private school on Manhattan's Upper West Side, and the University of Pennsylvania, where he focused on literature and history with plans of being a playwright.
His first gig, however, was working the switchboard for director George Abbott, who recognized Prince's talent even then.
"He was a young fella out of college and I put him to work. He was a very bright fellow, and he had a great deal of talent," Abbott said of Prince in an interview with a reporter from Forbes magazine.
His night job, however, was serving as assistant stage manager on Abbott's musical revue "Touch and Go," and that first taste of theater led him to return to Abbott's team after a stint in the Army, this time becoming the assistant stage manager on "Wonderful Town" starring Rosalind Russell.
That was the spring of 1853, and marked the beginning of big changes for Hal Prince.
Prince and Griffith play 'Pajama' games
He teamed up with the principal stage manager of "Wonderful Town," Robert Griffith, and the two began working on a musical version of Richard Bissell's comic novel "7 ½ Cents," about a strike at a pajama factory that soon became the effervescent musical "The Pajama Game," a 1954 show that continues to be a high school and community theater staple thanks to fun music, Abbott as the show's director and choreography by Bob Fosse.
"The Pajama Game wound up the season with as exuberant high spirits as New Year's Eve winds up the year. … There are the kind of peppy dance numbers that suggest a cheerleaders' carnival, and there is a great deal of music with an infectious, elementary lilt," wrote a reviewer for Time. "The Pajama Game" won a Tony Award for best musical and ran for 1,063 performances.
"West Side Story" – 1957
This contemporary take on "Romeo and Juliet" opened in 1957, and featured music by Leonard Bernstein, lyrics by Stephen Sondheim and choreography by Jerome Robbins. Despite the superstar collaborators – and producer Hal Prince – the show received mixed review from  critics, though it was nominated for six Tony Awards, including best musical.
Unfortunately, it was followed by a series of flops, and then, just before the future royalty of Broadway considered turning in his crown, along came a show that changed everything.
"Cabaret" – 1966
"Cabaret" transformed theater by giving audiences something completely different – and it was the show that stopped Prince from giving up on Broadway.
"Along with 'Evita,' 'Cabaret' is my sexiest show," says Prince, "sexy in the sense of seductive, not pin-ups."
With Fosse returning as choreographer, the show featured a scaled-down look with bowler hats and gloves inspired by Charlie Chaplin, and seduced audiences with the gritty rawness of the seedy little Kit Kat Klub.
While daring in the sense that it turned Nazism into a musical, the show "had a soft center" said Prince, who toned down some of the darkest elements enough to keep audiences entertained without turning the Nazi movement into something good.
But this time, Prince – whose early career might have been a bit misleading in that everything that opened was a success – was a perfectionist over the details, and spent countless hours pouring over the details of the music and the storyline.
"Kander and Ebb must have written 50 songs, most of which Hal rejected," said librettist Joe Masteroff, who also found his work rejected. "I wrote and rewrote over the course of many meetings. We must have had three thousand."
The Emcee was born from Prince's experiences serving in Germany during the Korean War.
"Hal knew right from the start how he wanted the character to be played, and he wanted to cast Joel Grey," said Masteroff. "We had two shows – my book and Joel's 15 minutes. It never occurred to me that when you put the two shows together you would have a new kind of musical, but Hal knew."
"Company" – 1970
After the dark overtones of "Cabaret," the adult themes of "Company"  – a musical that focused on New York marriages and one man's fear of commitment – was comfortable territory for another union between Prince and Sondheim.
It played like a live version of today's reality show genre, a "Real Housewives" watched by a "Real Housewives" crowd that erased the sense of escapism that usually comes with a night at the theater.
"Broadway theater has been for many years supported by upper-middle-class people with upper-middle-class problems. These people really want to escape that world when they go to the theatre, and then here we are with 'Company' talking about how we're going to bring it right back in their faces," said Sondheim.
A behind-the-scenes look at the show, "Original Cast Album: Company," remains one of the most celebrated documentaries to explore Broadway, and includes scenes with stars including Elaine Stritch, who brought the film to a close with a performance of "Ladies Who Lunch."
"Follies" – 1971
With "Follies," Prince's sense of perfectionism came out, according to screenwriter William Goldman ("Butch Cassidy and the Sundance Kid," "Misery"), whose brother, George ("The Lion in Winter"), wrote the book for "Follies," which also features music from Sondheim.
"He is," said Goldman "the muscle. Every member of that troupe sees something in his head he wants translated to stage. Only the muscle has a chance to be fulfilled. The others may end up rich, but they'll also end up frustrated. Everyone else's vision dies somewhere along the way."
Still, Prince is celebrated by his actors, who appreciate the room he allows for experimentation on stage, as long as it works.
"When he told me he trusted my instincts, I felt freed, and because of that I was the best I could be," said Dorothy Collins, who made her Broadway debut in "Follies" as Sally Durant Plummer, a former showgirl trapped in an unsuccessful marriage. "Ego doesn't get in the way with him. He knows exactly what he wants, but he'll let you do it your way."
Sondheim and Prince began to experience differences during the run of the show, but that's only because of their vastly different personality types.
"The trouble there," Sondheim said, '"was that Hal's a day person and I'm a night one. He starts off the day on a high and drops off after a few hours. It takes me a few hours just to wake up. But there's a minute or two as we pass each other when ideas flow.'"
And "Follies" – which explored the ideas of aging through the eyes of former showgirls – was one of their best collaborations, and won much-deserved critical acclaim for Prince.
"How many theater people in this country have the talent, taste, inventiveness, resourcefulness and high professional standards of Prince?" wrote Jack Kroll of Newsweek. "With 'Cabaret,' 'Company' and 'Follies,' Harold Prince has created a generation of musicals which capture much of our time in a form that, in his hands, refuses to die."
"A Little Night Music" – 1973
Prince and Sondheim again teamed up for "A Little Night Music," which took home a Tony for Best Musical, and this time, the cast noticed the decidedly different working styles of the composer and director.
Hermione Gringold, who played the aging Madame Armfeldt in the show about love, infidelity and regret, respected both, but found Prince to be much kinder than Sondheim, although just as brilliant.
"I thought he's be slick, this famous Broadway showman, but he isn't. He's very gentle with his actors. He yells at his crew, but never his actors. I don't know if it's good for actors to have someone as nice as Hal, who's a darling. He's the exact opposite of Stephen Sondheim, who also knows what he wants, but doesn't ask nicely. I'd dry up in front of him, as I used to do with Noel Coward," Gringold remembered. "He left me alone because he knew I was right for the part. I can't really imagine anyone else playing the part, can you?"
"Evita" – 1979
"Evita" marked the first time Prince worked with Andrew Lloyd Webber and Tim Rice. The show opened in the United Kingdom, and later made its Broadway debut with a different cast.
Based on the life of iconic Argentinian political leader Eva Peron, "Evita" was inspired by Rice's childhood stamp collection, which included a stamp of the wife of Argentinian president Juan Peron, along with a radio program he heard while driving that reminded him of his childhood hobby.
Elaine Paige plated the role of Eva Peron in the West End production, and is became one of her favorite theater memories.
"'Evita' obviously would always be very special to me because it was the first major musical that I did on stage and created in the U.K. with Hal Prince directing," she said. "I loved it. We would rehearse in this dark theater, unaware of the sunny day outside, and be immersed in the magic of making something from our imaginations."
Once the show had seen London success, it opened in Los Angeles before becoming the first British show to open on Broadway, and the now-legendary Patti LuPone took over that leading lady role – and almost lost it, if not for Prince.
"My reviews when 'Evita' opened in Los Angeles were disastrous. They said I was the reason the show was a failure," said LuPone. "The producers wanted to fire me, but Hal wouldn't let them. I was paralyzed with fear, but he told me I had what it took to play the part."
"Sweeney Todd: The Demon Barber of Fleet Street" – 1979
The same year that "Evita" opened, Prince again teamed with Sondheim, and again transformed the Broadway musical.
With "Sweeney Todd," the landscape became darker, with a plot that merged revenge, multiple murders and a bit of sheer madness.
"I still remember 'Sweeney Todd,' going to that on Broadway when I was in high school and sitting there with my jaw dropped," recalls Eric Schaeffer, who later directed a Broadway revival " the Prince-Sondheim project, "Follies,"
"You never saw anything like that," Schaeffer said. "It just feels every show he did always broke the mold. And that's just inspiring. Who doesn't grow up in the theater and say, 'I want to be like Hal Prince?'"
June Havoc, who played the role of meat pie maker Mrs. Lovett, enjoyed working with Prince, who allowed her room to redesign the role originated by Angela Lansbury to suit her own personal style.
"Hal doesn't stifle your creativity," said Havoc, who was initially afraid to step behind Lansbury's meat grinder.
"But Hal chose me because he wanted me. We were all so proud to be working on 'Sweeney Todd.' It was a love affair, and that always comes from the top."
"Merrily We Roll Along" – 1981
That respect for the actors' craft is one of the reasons so many people have loved working with Prince, and one of the reasons most of his shows have been so successful.
"You work to please him, because when you do it the way he likes it, when you hit it, his face lights up. He's like a kid with a new toy," said Lonny Price, who appeared as a teen in "Merrily We Roll Along," one of the few flops for Prince and Sondheim, and one of the last shows the two collaborated on for more than two decades.
And even as the show was struggling through previews, "he gave us pep talks every night," said Ann Morrison, who played in a cast that also included a young Jason Alexander. "And after the shoe opened he apologized, saying he had given us a good show, but he hadn't given us a hit."
An artist's director
"Hal shows a respect actors aren't used to," added Joanna Merlin, who worked as Prince's casting director for 15 years. "He has much respect for talent."
Even if that talent is virtually unknown, it seems.
"No one but Hal Prince would take a chance on an unknown kid like me," said Maureen Brennan, who was nominated for a Tony for her role as Cunegonde in Prince's 1973 production of "Candide," which featured the music of Leonard Bernstein. "At the time I'd never  even seen a Broadway play, but he saw an essence in me that he wanted for the part."
In fact, he often preferred to work with new talent, because more established stars came with their own sets of baggage, and for Prince, the show is the star, not it's cast.
"Most directors aren't as involved in the total concept of a show as Hal is, and he's not willing to relinquish control to a star," said Barbara Baxley, who appeared in Prince's 1973 "She Loves Me," which featured a book by Joe Masteroff, lyrics by Sheldon Harnick, and music by Jerry Bock.
"Nobody respects the writer's work more than Hal Prince," said Sondheim.
That respect – along with a genuine love between the cast and the show's backers – made for magic on stage, and Prince never expects to let it end.
"The perfect expression of receiving a lifetime award is to be working when they're handing it out," Prince said.
Author: Brenda Neugent