Top Colleges for Theatre Students in 2017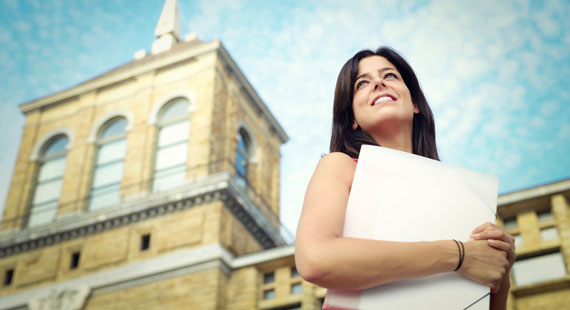 Shutterstock
Many of those who dream of being on Broadway still hop a bus and head to the Big Apple with little more than a suitcase and an unquenchable desire to perform on some of the most storied stages in the world.
While some of them will make it based on drive and talent, others prepare for the experience by perfecting their skills in college – a move that not only likely eases the angst of disapproving parents but also helps kick-start a career by providing real-world experience for the resume.
While some of the most coveted schools are in the New York City area, including the esteemed Julliard School, others outside the state are considered at the top of the list of institutions offering a theater education.
And whether the university of choice is found in the shadows of Broadway or not, graduating from any of the following is a smart way to make the Great Way White a little less of an impossible dream.
Wagner College (Staten Island, New York)
Princeton Review ranked the theater and speech program at Wagner the best in the nation this year after placing it in the top five for the past 10 years.
Just a stone's throw from Broadway, Wagner offers musical, technical, administrative and educational opportunities for theater students.
The Theatre & Speech program includes classes in acting, musical theater performance, directing, dance, design, technology and management. The school, which also has an extensive music program, has several different theaters and offers student-run productions that allow for on-the-job training.
Tuition at Wagner is $40,450 per year as of the 2014-15 school year.
In addition to merit-based scholarships and grants, it offers a Student Employment Program to help students raise money to cover the cost of tuition, and also accepts federal or state financial aid.
Both Money and Forbes magazines called Wagner one of the best schools in the country and a good value given the graduation rate and salaries of alumni after graduation.
Graduates include Academy Award nominee Robert Loggia ("Jagged Edge") as well as Broadway actor Randy Graff ("Les Miserable").
Carnegie Mellon University (Pittsburgh, Pennsylvania)
While Carnegie Mellon is known for a variety of different top-notch programs, its acting program is the oldest degree-granting program in the country.
The university's School of Drama was founded in 1914, and is internationally known for producing leaders in the field. Carnegie Mellon offers bachelor of fine arts degrees in acting or music theater, design, directing, dramaturgy and production technology and management, and master of fine arts degrees in costume production, design, directing, dramatic writing and production technology and development.
The school is known for merging established study with emerging technology to offer a cutting-edge education that touches on all aspects of the field.
Alumni include Tony Award-winning actor Billy Porter ("Kinky Boots"), writer and producer Stephen Bochco, Ted Danson, playwright Michael Goldenberg, Megan Hilty, Holly Hunter, Broadway director Rob Marshall, Judith Light and lyricist Stephen Schwartz, among many other notable actors on television, movies and stage.
Tuition is $48,030 per year as of the 2014-15 school year.
Carnegie Mellon offers merit-based scholarships and grants to incoming freshmen and accepts federal and state financial aid.
Yale University (New Haven, Connecticut)
With graduates including Cole Porter, the Yale Dramatic Association – the nation's second-oldest theater program – is among the nation's best and most important in the field.
The school's graduate program offers training in acting, set, costume, lighting, projection and sound design, directing, dramaturgy and dramatic criticism, playwriting, stage management, technical design and production and theater management.
Yale has several theaters and cabarets to provide top-notch experience, and gives students the skills to understand all aspects of the theater.
In addition to Porter, graduates include costume designer Jane Greenwood, who recently earned a lifetime achievement award, writer Thornton Wilder, playwright A.R. Gurney ("Love Letters"), Mark Linn-Baker ("You Can't Take It With You"), Liev Schreiber, Dylan Baker and Lewis Black.
Tuition is $45,800 per year as of the 2014-15 school year. Yale awards a limited number of merit scholarships, but most aid is based on financial need. The most common forms of financial aid are loans and need-based grants.
Bennington College (Bennington, Vermont)
U.S. News and World Report ranked Bennington as one of the top 100 colleges in the country, primarily because of its small student population – just under 700 students are enrolled this year – which allows for individual attention that better ensures a student's success. The school, founded in 1932, offers an innovative personalized course of study that requires students to play a major role in what direction their education will take.
The Princeton Review placed the Bennington theater department among the top five in the nation thanks to a program that encourages study in all aspects of theater, from directing and theater history to acting and stage management. Classes are often collaborative, creating a comprehensive learning environment that focuses on independent thinking.
The rural school just 160 miles from New York City and also requires several weeks of internships or other field work every year to provide learning opportunities that only on-the-job training can provide, and has lured accomplished alumni including Alan Arkin, Peter Dinklage and Carol Channing.
Tuition is $46,048 a year for an undergraduate degree – Bennington is one of the nation's most expensive and exclusive colleges – while a master's degree in performing arts is $22,450 a year.
About 80 percent of Bennington students receive some form of financial aid, which can include merit scholarships, grants, state or federal student loans and work study.
Emerson College (Boston, Massachusetts)
Jay Leno, cosmetics mogul Bobbi Brown and comic Denis Leary are all graduates from Boston's Emerson College, the only college in America that caters exclusively to the liberal arts.
The school was established in 1880 and is selective, with an acceptance rate of only about 48 percent.
Its School of the Arts includes a performing arts program that features classroom, studio and stage work that focuses on teaching students how theater enriches communities. Classes are taught by experienced theater professionals, and since the majority have class sizes of less than 20, offer individualized attention that helps ensure student success.
The Bachelor of Fine Arts program includes acting, musical theater, stage, production management and theater design and technology programs, with the focus on production and studio work, as well as theater history and literature courses to create a well-rounded field of study.
More than 50 percent of undergraduate students at Emerson receive some form of financial aid, on average about $17,800, to pay for tuition that as of the 2014-15 school year is $37,350 per year.
The Juilliard School (New York City, New York)
Students interested in learning classical theater learn exactly that at Julliard, which originally focused on music but now also features dance and a drama school founded by John Houseman.
The intensive program focuses on both vocal and physical training as well as technique, and requires a great deal from students, who are expected to be as committed to their craft as the school is committed to them.
The drama department often brings together writers and students to bring new works to life, celebrating a classic art form through contemporary work.
Alumni include Kevin Spacey, Viola Davis (currently starring in the NBC drama "How to Get Away with Murder") and Broadway legend Patti Lupone, who wrote about her experiences at the school in her memoir, which transformed her from a Long Island cheerleader into an esteemed singer and actor.
"It is the basis of all my technique," said Lupone, who faced threats from both Houseman and her diction professor until she was able to master control of her voice.
Tuition at Julliard – which often requires an audition in place of GPA for acceptance – is $36,920, and incoming freshmen are required to live in the New York City residence halls.
About 80 percent of the students at Julliard receive some form of financial aid, and scholarships are available.
Tisch School of the Arts (New York City, New York)
The Institute of Performing Arts at Tisch has six departments focusing on live performance, including an exclusive three-year graduate acting program that only accepts 18 students a year.
Other departments include dance, design, drama, theater writing and performance studies.
A dozen of the school's alumni – among them the late Philip Seymour Hoffman – are now on Broadway, including Michael C. Hall, who is starring in "Hedwig and the Angry Inch."
Tisch offers interdisciplinary collaborations that bring together different various fields of study – drama and dramatic writing, photography and film for example – and has been considered one of the leading arts schools in the country since its founding in 1965.
The school offers undergraduate programs in drama, dramatic writing, performance studies, cinema studies and musical theater writing, and operates primarily out of space at 721 Broadway, only about 40 blocks from Times Square.
Tuition at Tisch is $25,093 per term, with financial aid available in the form of scholarships, fellowships, grants and student loans.
Syracuse University (Syracuse, New York)
Syracuse alumni have won 19 Tony Awards in the last two years, making the College of Visual and Performing Arts a smart option for theater students.
Students begin to work as actors immediately through the Department of Drama, which offers a diverse program that is designed to inspire students to become leaders and innovators in the arts community. Students can prepare for their future careers in degree programs including acting, musical theater, stage management and theater design and technology, each of which combines rigorous training with a traditional university education.
Syracuse alumni include Taye Diggs, Aaron Sorkin, Vanessa Williams and Tom Everett Scott.
Tuition at Syracuse is $19,485 year as of the 2014-15 school year. Financial aid is available through scholarships, grants, student loans and work study programs. About 75 percent of students who attend Syracuse receive some form of financial assistance.
Rutgers (New Brunswick, New Jersey)
The Mason Gross School of the Arts at Rutgers accepts only 20 students a year, about nine percent of all applicants. The prestigious school is so coveted because students get a chance to earn their Equity card at the George Street Playhouse as part of the program.
It is one of 32 different programs at Rutgers, which was founded in 1766 and is the state school of New Jersey.
The school offers both undergraduate and graduate degrees in theater arts, and sees as its mission to "identify and nurture outstanding creative talent and to instill the insights and skills needed by future generations of arts professionals, enabling them to contribute to the creative and scholarly activity so essential to the vitality of our culture and society," according to the school's website.
Noted alumni include David Delaney, a resident director of the famed NYC Flea Theater, James Gandolfini, Calista Flockhart ("Ally McBeal") and Ozzie Nelson.
Tuition and fees were $13,813 for in-state students during the 2014-15 school year, and $28.591 for out-of-state students.
Financial aid is available in the form of grants, scholarships and student loans.
Ithaca College (Ithaca, New York)
Many of Ithaca's graduates have gone on to successful careers on Broadway, making the school a top choice for theater students.
The private school founded in 1892 is selective, with only about 66 percent of applicants getting acceptance letters after either auditions or interviews.
But those who do make it into the college's theater department can choose from a selection of different programs including theater management, theater studies, acting, musical theatre and theatrical production, with course work crossing over all five different programs to provide an all-encompassing education.
The work is intensive and individualized and mixes a conservatory-style approach with a traditional college experience, giving students all the tools they need to embark on a creative career path.
Tuition at Ithaca is $39,532 per year as of the 2014-15 school year. About 78 percent of students receive some form of financial aid, including scholarships, grants and student loans.
Graduates include Broadway performers Kerry Butler, Aaron Tveit, Michelle Federer, Jeremy Jordan and Matt Cavanaugh as well as Gavin McLeod ("Love Boat"), C.C.H. Pounder and Rikki Lake.
Drew University (Madison, New Jersey)
Not only is Drew located just 30 miles from Manhattan's rich theater region, the school offers a wide range of courses – comedy, women in theater and clowning among them – and an education that includes a cross-section of different classes that explore all aspects of theater, giving students a well-balanced education and an understanding of everything that goes into bringing a production to life.
Students have had the opportunity to write, direct and launch their own shows under the guidance of seasoned professionals, and are able to perform through internships off-Broadway, through the local Bickford Theatre or Shakespeare Theatre of New Jersey and at regional companies in New York, Boston and Chicago.
Tuition for the private school is $45,214 a year as of the 2014-15 school year, but financial aid in the form of fellowships, grants, scholarships and students loans is available.
About 78 percent of students receive some form of financial aid.
Famous alumni include Aileen Quinn ("Annie") and James Van Der Beek.
Vassar College (Poughkeepsie, New York)
One of the most selective schools in the United States according to U.S. News and World Report – less than 25 percent of applicants are accepted – Vassar has produced some legends of stage and screen, including Meryl Streep, Jane Fonda and Anne Hathaway.
The school is a private liberal arts school and features five different theaters including the intimate Streep Studio that produce professional-level theater productions in both traditional and experimental genres.
Tuition is $49,570 as of the 2014-15 school year, putting Vassar at the top of our list when it comes to tuition costs – but financial aid is available for all students who are accepted and demonstrate financial need. Applications are reviewed on a need-blind basis, and a need for financial aid will not impact the application process.
UCLA (Los Angeles, California)
Across the continent from Broadway, UCLA has nonetheless produced some top-notch theatre grads thanks to its Hollywood locale and close proximity to the Geffen Playhouse, home to numerous world-class productions.
The school 's theater department includes coursework in acting, playwriting, directing, design and production, theater studies and musical theater, and offers a comprehensive education that gives students a solid understanding of all areas of theater practice.
Graduates of the UCLA School of Theater, Film and Television include Tim Robbins, James Dean, Jack Black and Eric Roth.
Tuition and fees are $15,131 for in-state students and $38,009 for out-of-state students. Financial aid is available in the form of loans, grants and scholarships.
Northwestern University (Evanston, Illinois)
A great theater education doesn't require living on the East or West coasts, thanks to the popular and well-respected Northwestern.
Located near Chicago's arts scene, where theaters include the renowned Steppenwolf, Northwestern explores both history and theory as part of a theater degree, ensuring a well-rounded education that touches on all aspects of the stage.
Students can focus on acting, directing, playwriting, production or design, and as many as 40 productions a year are staged in the school's Theatre and Interpretation Center as well as smaller student theaters around campus.
Tuition is $15,612 per quarter, with financial aid available through merit-based scholarships, grants and state and federal loans.
Alumni include Stephen Colbert, Zach Braff and David Schwimmer.
Author: Brenda Neugent