War Horse Dallas | Winspear Opera House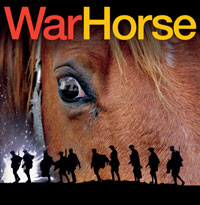 'War Horse', the Tony Award winning and compelling drama whose film adaptation also earned an Academy Award nod, comes to Dallas for a two-week run at the Winspear Opera House of the AT&T Performing Arts Center from September 12 to 23, 2012.
'War Horse' is a powerful and moving play set in England at the time of World War I. With the help of life-size, lifelike, strong and sturdy horse puppets that can carry a rider, all of which were crafted by the Handspring Puppet Company of South Africa, the production is able to tell the touching story between Albert and his beloved horse Joey, who were separated when Joey is sold to the cavalry as a pawn for war. Despite the restrictions of age and the real perils and threats that await him, young Albert goes on a dangerous mission amidst the devastating and depressing aftermath of war to find his horse and bring him home, who ends up in a deserted land after having seen the bloody action first-hand. The performance running time is 2 hours and 40 minutes with 1 intermission.
Review the ticket options featured below for premium seating and sold out tickets. Tickets may be above face value and this site is not affiliated with the venue.
War Horse Dallas Cast
Allan – Michael Stewart Allen
Billy – Michael Wyatt Cox
Rose – Angela Reed
Joey – Harlan Bengel
Joey as a Foal – Mairi Babb
Chapman Carter – Chad Jennings
Lieutenant James Nicholls – Brendan Murray
Albert Narracott – Andrew Long
Creative
Author, Source Material – Michael Morpurgo
Adaptation – Nick Stafford
Handspring Puppet Company
Directors – Marianne Elliott & Tom Morris
Sets, Costumes, & Drawings – Rae Smith
Puppet Design, Fabrication, & Direction – Toby Sedgwick
Address: 2403 Flora St, Dallas, TX 75201
Winspear Opera House Capacity: 2200
Map: