Was Frozen Inspired by Broadway's Wicked?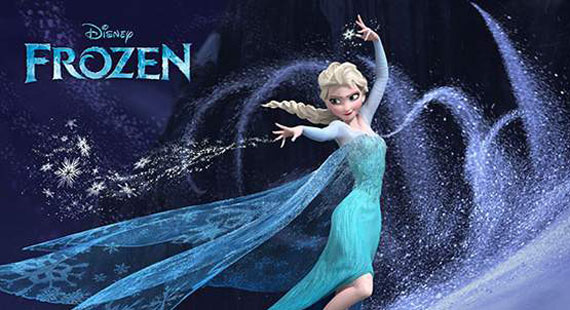 Disney
Ever since the release of Disney's Frozen, there have been numerous comparisons between the film and Broadway's Wicked; so much so that there is an underlying belief among many that Frozen was actually inspired by Wicked, though it is loosely based on Hans Christian Andersen's The Snow Queen. I have to admit there are a lot of similarities that cannot be dismissed, but take a look for yourself and see what you think.
The Plot
What is undeniably one of the largest similarities between Disney's Frozen and Broadway's Wicked is the plot. The entire time I was watching Frozen, I could not help but think how certain elements of the story almost mirrored those in Wicked. Both plots seem to center around two girls, one of which is trying to come to terms with a power she cannot control and the other who spends her time trying to reel the other one in.
In Frozen, Elsa's power cause her to lose control after facing rejection. She ultimately flees and reeks wintery havoc on Arendelle as a result. In Wicked, Elphaba's powers also cause her to face rejection and be misunderstood as a "monster" causing her too to flee.
Both storylines also feature a bubbly, fun-loving opposite (Anna in Frozen and Galinda in Wicked) that immediately falls in love with a guy only to find out that his feelings do not match their own. Eventually, both of these characters learn from the experience and grow as a result.
The Message
One of the main messages that viewers get from each production is the message of friendship and love between sisters. In Frozen, the film centers around Anna and Elsa's relationship, addressing Anna's longing to regain closeness with her sister and Elsa's act of hiding her powers to protect her sister. In Wicked, Elphaba and Glinda overcome the competing love they have for Fiyero and learn to both appreciate each other's differences and use their own strengths to help one another.
The Climax
Each story's climactic moment is reached when the heroine of the story embraces her true self (Frozen's "Let It Go" and Wicked's "Defying Gravity". What results in each production is a captivating ballad that conveys this liberating message with lyrics that seem to mimic one another. Molly Sprayregen, a culture writer for The Huffington Post, did a great line by line lyric analysis for both songs to demonstrate this point. She notes:
Elsa: It's time to see what I can do, to test the limits and break through.
Elphaba: I'm through accepting limits, 'cause someone says they're so. Some things I cannot change, but 'til I try I'll never know.
Elsa: Let it go, let it go, I am one with the wind and the sky.
Elphaba: So if you care to find me, look to the western sky.
Elsa: A kingdom of isolation…no right, no wrong, no rules for me. I'm free.
Elphaba: And if I'm flying solo, at least I'm flying free.
The Names and the Actresses
There are several people who find it interesting that both of the troubled female characters have names that start with an 'E' (Elsa in Frozen and Elphaba in Wicked). Even more interesting and easily considered to be an intentional move is the fact that both of these characters are played by actress Idina Menzel.
Some also consider it to be coincidental that the actresses who play the "positive" roles in each production are played by actresses named Kristen/Kristin (Kristen Bell plays Anna in Frozen and Kristin Chenoweth plays Galinda in Wicked).
The Composers
Another connection between the two productions is the fact that both feature music by a Broadway turned Disney lyricist/composer. Robert Lopez, Frozen's composer, wrote music and lyrics for Broadway production Avenue Q and The Book of Mormon prior to making the move to Disney. In the same manner, Wicked's lyricist/composer Stephen Schwartz worked on music for Pippin and Godspell before working on Disney's Pocahontas, Hunchback of Notre Dame, and Enchanted.
So are these simply a series of coincidences, or is there truth to the idea that Frozen and Wicked are indeed the same tale? I guess that's for us to speculate and Disney to know. Nevertheless, these similarities makes for a neat relationship between the two tales; even if it's a relationship that we've all simply imagined to exist.
Author: Diamond Grant