Why Cole Porter and "Anything Goes" Are Still Cool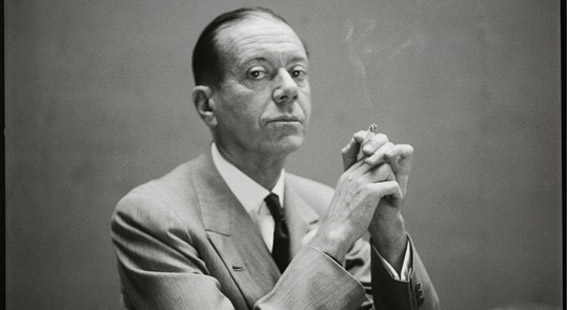 "Anything Goes" first graced the stage in 1934, the same year Alcatraz opened, John Dillinger was shot but survived while robbing Chicago's First National Bank, Bonnie and Clyde killed two police officers and Shirley Temple starred in her first movie.
In 2011, it won a Tony for Best Musical Revival, for very good reason.
The lyrics of Cole Porter are timeless, and continue to be edgy and completely relevant, 80 years after they were first written.
Sure, the musical is at its heart a love story, with a little bit of international intrigued tossed into the mix, but it's the clever linguistics of Porter, a daring and clever songwriter whose pas de deux with words put him in a class of his own, that makes the show so easy to fall in love with, over and over again.
"Anything Goes" opened in 1934 at the Alvin Theatre (now the Neil Simon Theatre) on Broadway, and featuring songs including "I Get a Kick Out of You," "You're the Top," "It's De'Lovely" and "Anything Goes," each of which stands alone as a magnificent piece of music, with or without the show as a backdrop.
Porter – like a contemporary tabloid – loved pop culture, and it showed in his lyrics, which included references to everything from a Bendel beret (Henri Bendel is an upscale women's apparel store that opened in NYC in milliner Henri Bendel) to a Waldorf salad, with nods to the popular Drumstick lipstick brand, made by the French company Charbert, and boxer Max Baer (whose son would go on to become Jethro on "The Beverly Hillbillies") tossed in for fun.
Cole Porter made songs about love fresh by making his lyrics seem malleable and easy, even if in reality they were complex bits of musical architecture, rich with double entendre and a flirtatiousness that might have made even Shakespeare blush, even though the Bard himself was also a bit rakish for his era.
Aside from a few references to things that have passed along with Porter, who died in 1964, his music offers such spot-on observations that it could almost pass for contemporary works.
The title song to "Anything Goes" takes a hard look at 1934 and pronounces it completely amoral compared to days gone by, something almost every generation since has gone through.
With the lyrics "Good authors too who once knew better words now only use four-letter words writing prose, anything goes," Porter could easily be talking about the expletive-laced world of contemporary pop. His message is exactly the same, 80 years after he settled into a mansion in Connecticut to write it.
"No Broadway songwriter, past or present, has had anything like this composer-lyricist's jaunty sang-froid," said Elliott Sirkin of the Atlantic. "As a writer, Porter had an inimitable gift."
And music, it seems, was always in his head.
Porter wrote his first song at age 11, when he was growing up in Peru, Indiana, and 300 more while an undergrad at Yale University. He also attended Harvard, where he surreptitiously studied music, as his grandfather, the founder of the family fortune, assumed he was working toward passing the bar.
His first musical, "See America First," opened on Broadway in 1916, and although the comic work modeled after Gilbert and Sullivan was a bit of a flop, it didn't stop Porter from celebrating with a move to Paris, where he mingled with socialites and established the debonair style that from then on would permeate most of his works.
All the while – even while sneaking in a marriage to widowed socialite Linda Lee Thomas – he worked, finding inspiration everywhere he went.
"I've done lots of work at dinner, sitting between two bores. I can feign listening beautifully. I can work anywhere," Porter once said.
Memorable songs that preceded "Anything Goes" include "Let's Do It (Let's Fall in Love)" for 1928's "Paris," "Love for Sale," a scandalous song about prostitution written for the 1930 musical "The New Yorkers" and "Night and Day," written for Fred Astaire's "The Gay Divorcee" in 1932.
While working on the score to "Anything Goes," he also penned the movie classics "Easy to Love," "I've Got You Under My Skin" and "In the Still of the Night," which are all firmly ensconced in the Great American Songbook.
His 1948 "Kiss Me, Kate" – which included the sultry "Too Darn Hot" alongside the sassy "Always True to You in My Fashion," a song about a trollop who only cheats in order to acquire things, so the trysts themselves are rendered meaningless – took home the first Tony for Best Musical, and continues to turn up as part of community theatre seasons.
And although each of those masterworks is unforgettable, it is "Anything Goes" that remains Porter's most enduring love story.
The show continues to be a popular choice for high school and college theater troupes, and it was revived on Broadway in 1962, 1987 and 2011, earning several Tony Awards including for Best Actress, Best Choreography and Best Musical Revival.
The touring production of "Anything Goes" has upcoming stops in Austin, Milwaukee, Bismarck, Sioux Falls and Joliet, among numerous other cities.
Author: Brenda Neugent