Your Guide to Seeing New York City in a Weekend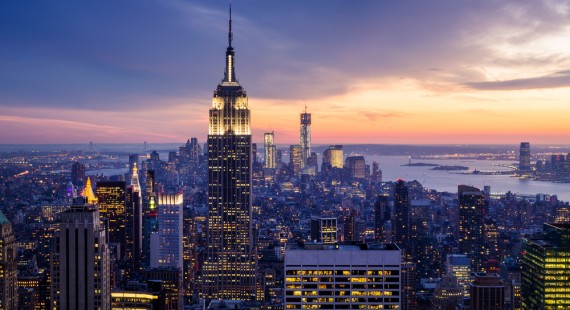 Mihai Simonia | Shutterstock
If you're planning to spend a weekend in the Big Apple, you probably want to squeeze in as much as possible in a short span of time, but have no idea where to get started.
As far as New Yorkers are concerned, there are a few things that should be a must on your list, most importantly walking around to take in the best of the city.
Walking gives you a chance to check out the city's great architecture, explore interesting shops and get a close-up view of the hustle and bustle that gives New York City its own personal voice.
"I love New York City," said comedian Lewis Black "The reason I live in New York City is because it's the loudest city on the planet Earth. It's so loud I never have to listen to any of the shit that's going on in my own head. It's really loud. They literally have guys come with jackhammers and they drill the streets and just leave cones in front of your apartment; you don't even know why. Garbage men come; they don't pick up the garbage, they just bang the cans together."
In addition to the sounds, following are some sights to consider adding to your weekend agenda when you plan your New York City stay:
Visit Shopsin's General Store
This iconic New York City restaurant, the focus of the 2004 documentary "I Like Killing Flies," showcases the passion behind the busy yet tiny establishment founded by Kenny Shopsin.
Initially located in Greenwich Village, Shopsin's moved and is now located in New York City's Essex Street Market.
Customers – if they survive long enough to get a seat by not breaking any of chef-owner Kenny Shopsin's rules, including no more than a party of four and no cell phones – might have to wait for a spot in the 20-seat restaurant, but if successful, the time spent on line is usually well worth it.
"Bizarro brilliance can be found in salty, toothsome macaroni-and-cheese pancakes and habanero-spiced fried chicken," wrote Time Out New York of the restaurant's overwhelming menu, which includes more than 900 items, each conceived by the innovative chef Kenny.
"I dedicate myself to consuming all sorts of ideas," Shopsin told the New York Times in 2008. "Eventually something inside me … assembles a product and just shoots it."
The main focus of the menu is a wide range of both soup and pancakes – stacks include corn cheddar, lemon ricotta or his famed peanut-butter-laced slutty cakes while soups range from fried burrito, mango chicken lime and shrimp bisque with tomato basil croutons to Jamaican jerk chicken and Spanish garlic and egg – but there are also sliders and huge breakfast plates.
New dishes are printed on the menu the same day: "I spent almost $3,000 on toner in the last three months," Shopsin told the New York Times back in 2008.
Hours are 9 a.m. to 2 p.m. Wednesday through Saturday and 10 a.m. to 2 p.m. Sunday.
Dine out for an unforgettable meal
Time Out New York lists the 100 best NYC restaurants on its website, but it can be hard to narrow your choices down when faced with so many options.
Some well-known spots headed by some of the most respected chefs in the country include:
Café Boulud: This casually elegant restaurant from Daniel Boulud features French classics and seasonal items alongside farmer's market-inspired and global dishes as well. The dinner menu standouts include French onion soup, Beef Wellington, pan-seared duck breast and chestnut veloute.
La Bernardin: This seafood-focused restaurant from chef Eric Ripert has three Michelin stars. The menu – a prix-fixe four-course meal for $140 – includes geoduck, octopus, sea urchin, langoustine, dover sole, monkfish, skate and black bass, among other exotics, each artistically prepared and plated for a memorable dining experience.
Balthazar: The French restaurant features roasted baby beet salad and seafood ceviche as appetizers and entrée items ranging from skate and grilled trout to duck shepherd's pie, coq au vin and duck confit. Balthazar also has a classic dessert menu featuring Pavlova, chocolate pot au crème, crème fraise panna cotta and crème brulee as well as profiteroles and sticky toffee pudding.
Keen's Steakhouse: This Manhattan establishment, the only surviving landmark from the Herald Square Theater District, is perfect for those who would prefer a good steak in place of fish, although oysters Rockefeller and Maryland crab cakes are on the appetizer menu alongside thick-cut smoked bacon. Entrees range from prime rib of beef and chateaubriand to jumbo shrimp and Maine lobster.
Paulie Gee's: This Brooklyn Italian restaurant features soup, salad and pizza, including the Brian DeParma (Italian tomatoes and Parmigiano Reggiano), the Feel Like Bacon Love (Italian tomato and butter sauce flavored with onion and smoky bacon, fresh mozzarella, Pecorino Romano and post-oven milled black pepper) and Cherry Jones (fresh mozzarella, gorgonzola cheese, prosciutto di parma, dried Bing cherries and orange blossom honey).
Tamarind Tribeca: This Indian restaurant offers a flavor-packed menu ranging from poori and samosa appetizers to entrees including marinated prawns, venison chops and paneer. The restaurant has a policy of not admitting children under 8.
The Spotted Pig: Led by chef and co-owner April Bloomfield, the Spotted Pig menu includes plates (oysters, smoked haddock chowder, buratta with sautéed wild mushrooms, crispy pig's ear) and entrees (seared mackerel, grilled skirt steak, wild striped bass and roasted partridge).
Momofuku Noodle Bar: From chef David Chang, this restaurant transformed ramen noodles into something special by adding poached eggs, pork belly and pickled shitakes. The menu also includes fried chicken (two whole fried birds, one Southern-style, the other Korean, to serve parties of 4 to 8 if ordered in advance).
See a Broadway show
If you can, make plans to take in a Broadway show. The live theater experience is something to savor, and the shows on the Great White Way are more spectacular than most.
Booking your seats a few weeks in advance might be early enough for some shows, but if you're headed to NYC for the weekend, consider buying your tickets a month or two before your trip, to be sure you get to see the show you really want.
Currently, the top 10 Broadway shows by popular demand include:
"The Lion King." The New York Times said, "there is simply nothing else like" this long-running Elton John-Tim Rice show, the story of a young lion who faces inner turmoil and tragedy before becoming the leader of his pride. The award-winning musical is playing eight times a week (the theater is dark on Mondays) at the Minskoff Theatre, with tickets starting at $92.
"The Book of Mormon." This comedy from the creators of Comedy Central's "South Park" was called "the funniest musical of all time" by Vogue magazine. It took home eight Tony Awards in 2011 and is currently playing at the Eugene O'Neill Theatre. Tickets start at $99.
"Wicked." This prequel to "The Wizard of Oz" focuses on the friendship between Elphaba and Glenda before they become the Wicked Witch of the West and Glinda the Good Witch, and before Dorothy drops down on Oz in her house. The show is a tale of enduring love and magic. It is currently playing at the Gershwin Theatre, with tickets starting at $76.25.
"The Phantom of the Opera." This Andrew Lloyd Webber classic is one of the most enduring shows on Broadway, and currently holds court as the longest-running Broadway show of all time. A story of unrequited love and revenge, The show is playing at the Majestic Theatre. Tickets start at $39.
"Kinky Boots." A man who inherits a struggling shoe factory has no idea what to do with it, until a drag queen convinces him that the market of comfortable women's shoes for men is wide open. The story of love and acceptance is currently playing at the Al Hirschfeld Theatre, and tickets start at $57.
"Aladdin." Beautiful sets, costumes and music highlight this story of Aladdin and the magic lamp, based on the 1992 Disney musical but fleshed out with new songs written especially for Broadway. The award-winning show is playing at the New Amsterdam Theatre. Tickets start at $49.50.
"Mamma Mia!" Highlighted by the classic songs of ABBA, this musical is the story of a woman who invited three different men to her wedding in hopes that one of them is her father. The show is playing at the Broadhurst Theatre, with tickets starting at $49.
"Beautiful: The Carole King Musical." This musical tells the story of Carole King, from her early years growing up in Brooklyn to her journey to becoming a chart-topping musical legend, with songs including "Natural Woman," "Up on the Roof," "Take Good Care of My Baby" and "You've Got a Friend." "Beautiful" is playing at the Stephen Sondheim Theatre. Tickets start at $75.
"Les Miserables." This classic based on the story by Victor Hugo tells the story of Jean Valjean, who is jailed for stealing food for his family, and after his release, spends the rest of his life being pursued by Inspector Javert for a small infraction. The classic tale of love and redemption is playing at the Imperial Theatre. Tickets start at $57.
"An American in Paris." The story of an American soldier, a French girl and a city with a personality all its own, this musical is still in previews at the Palace Theatre but is already proving its popularity. Ticket prices start at $30.
Museums are a must
The Met. Tim Gunn from "Project Runway" visits this museum every Sunday, so you clearly won't see everything there is to see during one visit to the Metropolitan Museum of Art, one of the largest and most important museums in the world.
The museum's diverse collection includes works ranging from the Diane Arbus photograph "Child with a Hand Grenade In Central Park, NYC" and the Winslow Homer painting "Northeaster," to a jumpsuit by Giorgio Armani and a cherry wardrobe crafted by the Herter Brothers.
Hours are 10 a.m. to 5:30 p.m. Sunday through Thursday and 10 a.m. to 9 p.m. Friday and Saturday. Admission is $25 for adults, $17 for seniors, $12 for students and frees for children under 12.
The Guggenheim. Designed by architect Frank Lloyd Wright, the Guggenheim is a masterpiece of 20th century architecture, and houses a wide range of art including "Red Balloon" by Paul Klee, "Nude Model in the Studio" by Fernand Leger, "The Yellow Cow" by Franz Marc and "Woman with a Fan" by Jean Metzinger.
Tickets are $25 for adults, $18 for students and seniors and free for children under 12, and hours are 10 a.m. to 7:45 p.m. Saturday and 10 a.m. to 5:34 p.m. Sunday through Friday (closed Thursday.)
American Museum of Natural History. With both revolving and permanent exhibits, this ever-changing museum tells America's story through earth and planetary sciences, fossils and the origins of man.
Tickets are $22 for adults, $17 for seniors and students and $12.50 for children 2 to 12. Hours are 10 a.m. to 5:45 p.m. daily.
Museum of Modern Art. This treasure trove of modern art includes "The Starry Night" by Vincent van Gogh, Salvador Dali's "The Persistence of Memory," Andy Warhol's "Campbell's Soup Cans," Henri Matisse's "Dance" and Pablo Picasso's "Girl Before a Mirror," among many, many others. The museum celebrates painting, pop art, architecture, sculpture, photography and film and features pieces from a diverse collection of artists and photographers including Dorothea Lange, Roy Lichtenstein and Jackson Pollock.
Tickets are $10 for adults, $6.50 for students and seniors and free for children under 16. Hours are 10:30 a.m. to 5:45 p.m. Saturday through Thursday (closed Wednesday) and 10:30 a.m. to 8:15 p.m. Friday.
National September 11 Memorial and Museum. This tribute to 9-11 stands on the former site of the Twin Towers, and features a memorial to those who lost their lives that day or later due to injuries sustained rescuing survivors, as well as a museum that includes exhibits, oral histories and authentic artifacts. Films are also available, and live talks are scheduled regularly.
Tickets – available up to three months in advance – are $24 for adults, $18 for seniors, veterans and students, $17 for children 7 to 17 and free for children 6 and under. Hours are 7:30 to 9 p.m. daily for the memorial, and 9 a.m. to 8 p.m. Sunday through Thursday (last entry 6 p.m.) and 9 a.m. to 9 p.m. Friday and Saturday (last entry 8 p.m.) for the museum.
Staten Island Ferry
Free to ride, the ferry will provide an excellent view of the Statue of Liberty and Ellis Island as well as the Manhattan skyline.
The Staten Island Ferry is one of the last remaining members of New York City's ferry system, in place before bridges were built. An estimated 22 million people a year (70,000 a day) travel the Staten Island Ferry between St. George on Staten Island and Whitehall Street in lower Manhattan.
It includes a nine-vessel fleet to navigate the five-mile, 25-minute ride, which has been called "one of the world's greatest (and shortest) water voyages."
See Central Park
An urban park that sits within the center of New York City's borough of Manhattan, Central Park covers more than 800 acres and includes a zoo, walking and biking trails, numerous water spots, a meadow, a winter skating rink, sculptures, bridges, gardens and the Charles A. Dane Discovery Center.
There is also an information and visitor's center to get you started on your Saturday – or Sunday – afternoon in the park.